Discover 8 expert tips for video content that helps you attract more, amaze more, and achieve more.
By: Chris Showalter
Eight seconds. That's all you've got to capture a prospective student's attention.
As someone who works closely with a wide variety of colleges and universities across the nation to create compelling videos that capture each institution's unique story, I know just how challenging that can be. Especially for admissions and enrollment teams that are leanly staffed, overwhelmed with other initiatives, or simply don't have content creation support.
But with increased competition for students, a looming demographic cliff, and students getting into an increasing number of institutions, it's never been more important to effectively capture and maintain a prospective student's attention.
And there's no better way to do that than video. If you've got something you want to say and you want people to hear it, video is your best bet for getting your message out there. It's an easily digestible medium that we are all very familiar with, and especially the younger generations, they've become accustomed to using it as their main source of information.
In fact, video is so vital to admissions strategies that we recently released a white paper exploring 7 reasons to leverage video in campus visits and enrollment marketing — which you can download for free here.
Knowing the importance of video is only the first step though. The often more overwhelming step is actually creating and leveraging video.
So to help you get started with video or level up your content, below are 8 tips I like to share with our higher education partners.
1. Plan ahead
Don't wing your videos. Go in with a clear action plan. Where do you want to film? Who are you filming? What narrative or information are you trying to capture? How will you leverage this video?
While you don't want to script the video, you do want to have a clear vision for each video project so you can ensure you capture engaging content that you can actually use.
Another aspect of planning involves thinking about the time and energy commitment. Getting footage is only one part of the equation. There are also often multiple rounds of editing to get to that final product. So you want to ensure you have all pre- and post-production aspects taken into consideration as well before you dive in.
2. Keep your videos short
When it comes to producing engaging and impactful videos, length is critical. Short-form video is ideal. And by short, I mean anything under two to three minutes. Sixty to 90 seconds is an ideal length for inclusion in virtual tours and for videos that are easily repurposable on other key channels.
3. Keep your audience in mind at all times
When creating videos, it's critical to always keep the intended audience — including their interests and needs — at the forefront. That means you want to ensure your interviewee uses relevant and understandable language. So if you're interviewing faculty or staff members, you want to ensure they're focused on what prospective students and their families are concerned about. For example, you'll only want them to address scholastic initiatives through the lens of how they affect students.
4. Showcase your facilities — but do so with a story
Prospective students (and their families) want to learn about your facilities. This is especially true for buildings they may not be able to get an inside perspective of during a guided on-campus visit, like dorms and laboratories.
But you don't want to just walk through a building or showcase empty facilities. When you're showcasing your facilities via video, you want to ground the tour in a story.
I liken this winning visual and story combo to show and tell. If you're getting up in front of the class but you forgot to bring anything to show, everyone might lose interest. By having a visual (your video!) and a story (the narrative you're grounding the video in), you can create a truly engaging and emotional experience. In higher ed recruiting, those are the types of engagements that go on to move the enrollment needle.
5. Put your speakers at ease
When students and faculty sit in front of a camera, they're often a little bit nervous. So one of the things I've picked up on over the years is how to put people at ease — especially those who aren't used to being on camera. I like to get them talking and start a conversation so they're able to explain their story in a way that's emotionally engaging and exciting.
One of my favorite parts of the interviewing process is actually getting people comfortable — really talking to them and not just trying to get a soundbite. I enjoy really speaking to them as people and understanding what they've been through so I can accurately capture their unique perspectives and stories — helping create authentic videos that resonate with viewers.
6. Authentic and natural > scripted
Speaking of authenticity, it's important to let your speakers talk rather than recite. While speakers should have an idea of what they want to say in a given video, it's not necessary to memorize a script. Some key facts, sure, but not the whole delivery. Students can tell when their peers or even faculty are just reading from a script.
7. Leverage your videos across multiple channels
While videos can be resource-intensive to create, this type of content can be leveraged across multiple channels depending on the type of video.
When the StudentBridge Studios team works with institutions to create videos, we create content that can be leveraged in many ways — from virtual campus visits and viewbooks to websites, social media, and beyond.
8. Know when to bring in the experts
It's never been more accessible for institutions to start leveraging video, but amateur videos can only get you so far.
By amateur video, I mean something you're capturing on your smartphone or webinar recordings, to name a few common examples. These types of videos can help you check the quantity box when it comes to leveraging video, but institutions looking to achieve more really need to focus on that quality checkbox as well.
Notice I said as well. Professionally produced videos can supplement amateur videos you may already have or user-generated content (UGC) coming in from students. By adding professional videos to your strategy, you'll have professional content to spark interest and keep viewers' attention. Then when you have that attention or when viewers are ready to really drill down on a topic, your amateur videos can provide that more in-depth or tailored content.
Ready to achieve more with authentic videos? StudentBridge can help.
A lot of our partners come to us because they don't have time to figure out the video logistics. Our project managers brainstorm with clients to understand messaging, locations, and best-fit students; Then, we handle the rest! We coach interviewees, film, edit, and publish your stories for you, so you can focus on your job.
If you're interested in learning more about how StudentBridge can help you achieve more (especially with video), schedule a free, no-obligation conversation.
---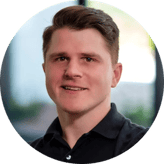 Chris Showalter is an Atlanta native with over 13 years of experience in the video creative world. He's done work on TV shows, commercials, and a feature film. But he fell in love with the videographer/editor approach to filmmaking because he enjoys wearing many hats from producer and DP to editor and motion graphics artist. In his 10 years with StudentBridge he's traveled the country and filmed at well over 100 schools and uses this experience to help our partners identify and showcase what truly makes their institutions stand out from the rest.