Lights, Camera, Enrollment:
Attract More with Authentic Videos
7 Reasons to Leverage Video in Campus Visits & Enrollment Marketing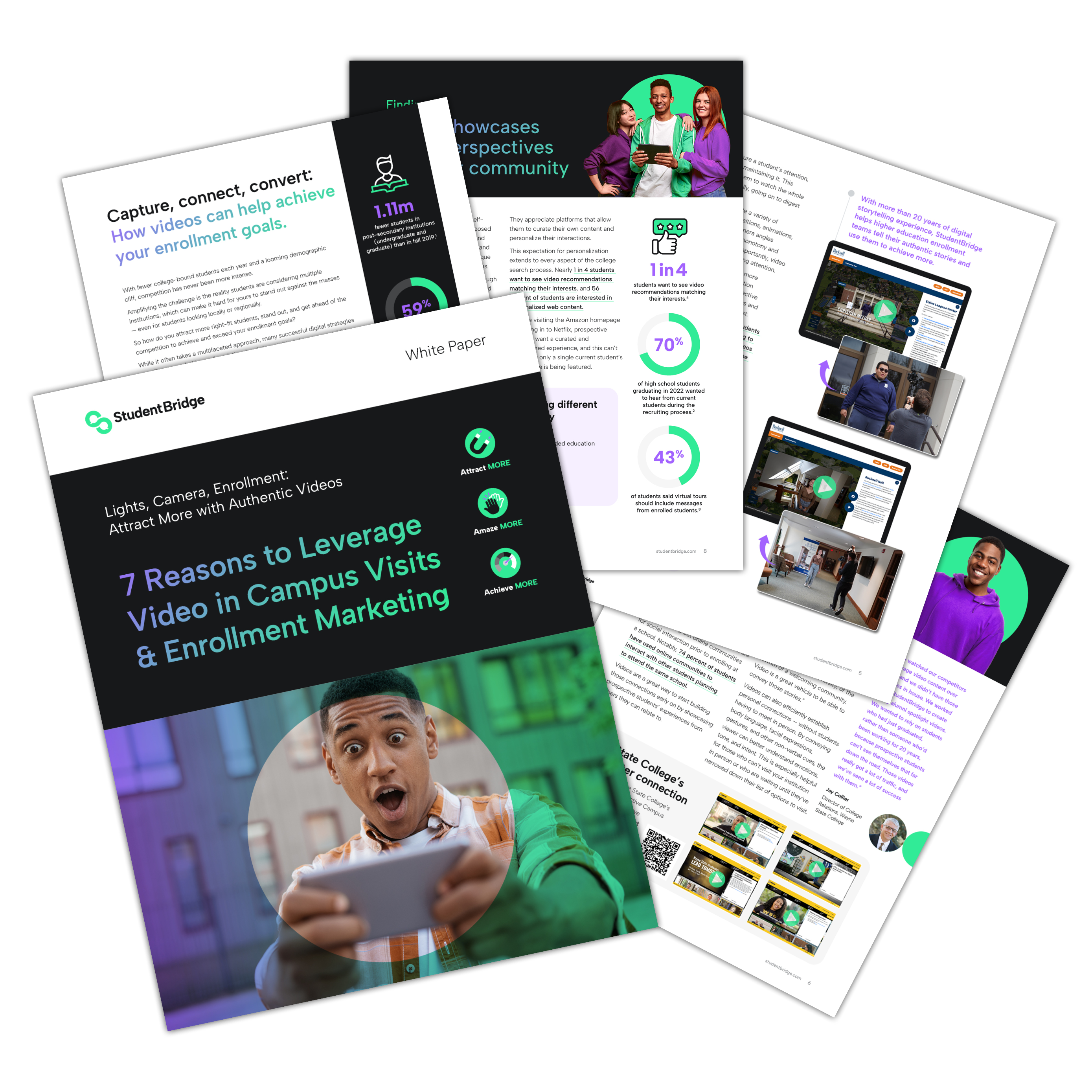 Authentic videos = The key to stand out from the competition and attract more
Are you looking to capture, connect, and convert students? Authentic videos are the foundation to attract more, amaze more, and achieve more.

Video can better capture and hold a student's attention than text, audio, or static images alone. Plus, they give you the power to create compelling narratives, evoke emotion, build connections, and present information in a clear and engaging manner that can move the needle on enrollment.

But that's just the beginning of why videos are critical to any college or university's marketing strategy. With the latest research, expert guidance, and examples from real institutions, this white paper can help you tap into the full power of videos and achieve more this year.
In this white paper:
In the Lights, Camera, Enrollment: Attract More with Authentic Videos white paper, discover 7 reasons to leverage video in campus visits and enrollment marketing. Tap into the latest research, get guidance from digital storytelling experts and admissions leaders, and learn from other institutions' successes.
Reveal 7 reasons to leverage video in campus visits and enrollment marketing

How videos can help you attract more and achieve your goals

Enrollment challenges that make videos not just a nice to have but a critical need

Videos others use to successfully showcase what makes their institutions unique

The power of student voices in videos and how to capture them authentically

Videos you need to stand out and move the needle on enrollment

Where to leverage videos to make the most of your content

How to understand the effectiveness of your videos

An easy way to bring your institution's authentic stories to life — without bogging down your team

And more!
Let's connect
Learn how StudentBridge can help you achieve more.