Breathe life into your campus with
Interactive 3D Maps
Highlight the look, feel, and stories of your campus or facility with always-on Interactive Campus Maps.
Go beyond buildings and walkways to promote what really sells your campus — the people, stories, and value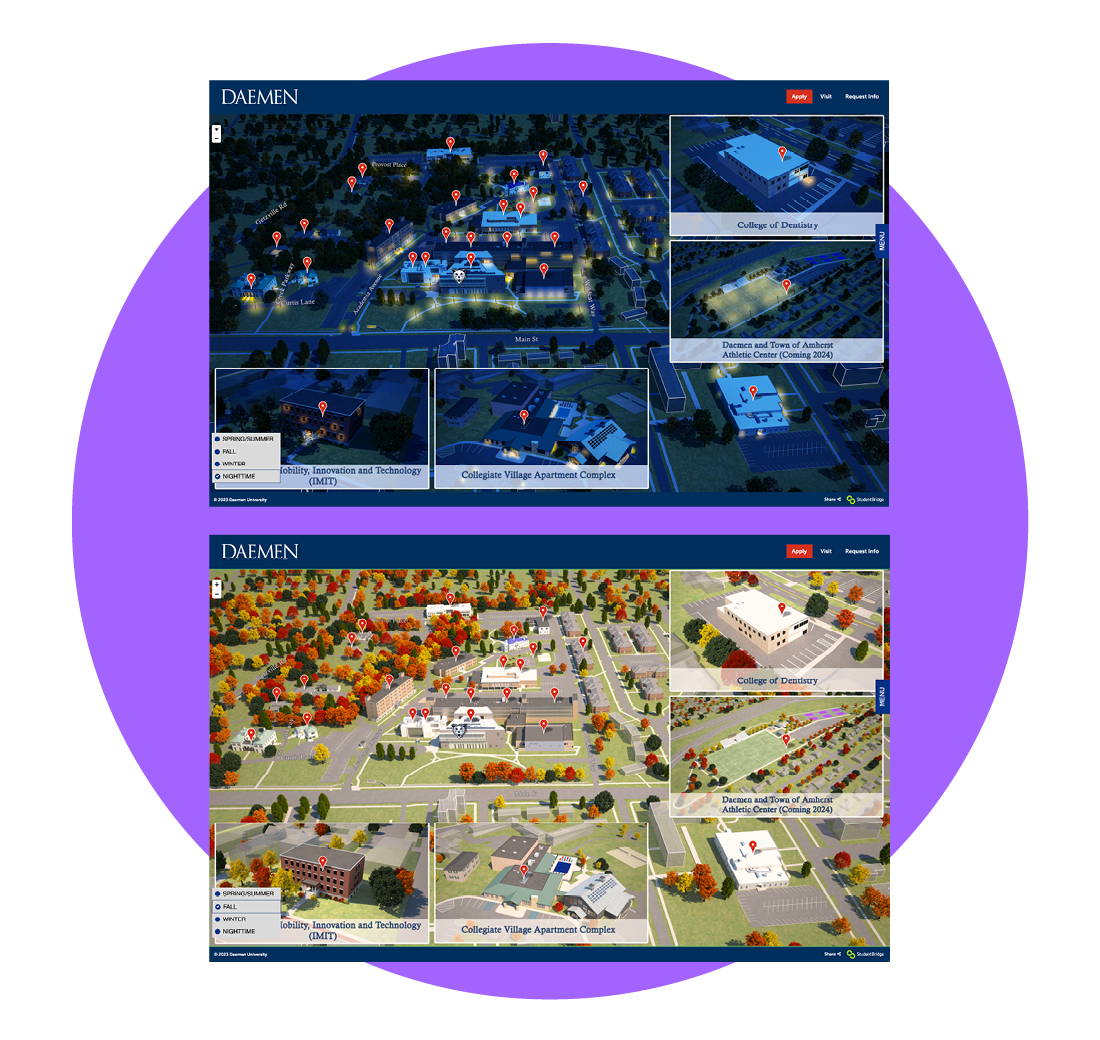 Bring campus to life for everyone, everywhere
Introduce visitors to campus on their schedule
Empower students and others to explore campus anytime, from any device with a download-free interactive map
Capture the look and feel of your institution with photo-accurate building and campus renders

Highlight points of interest on or off campus using photos, 360° imagery, and videos

Enable exploration based on interests like academics, campus life, residence halls, and more
Feature your facilities
Is your college based in one building? Are certain buildings (like dorms or labs) off-limits during tours? Does one facility house a lot of key locations and resources? Showcase your facilities with internal building maps that realistically depict the interior of your building floor by floor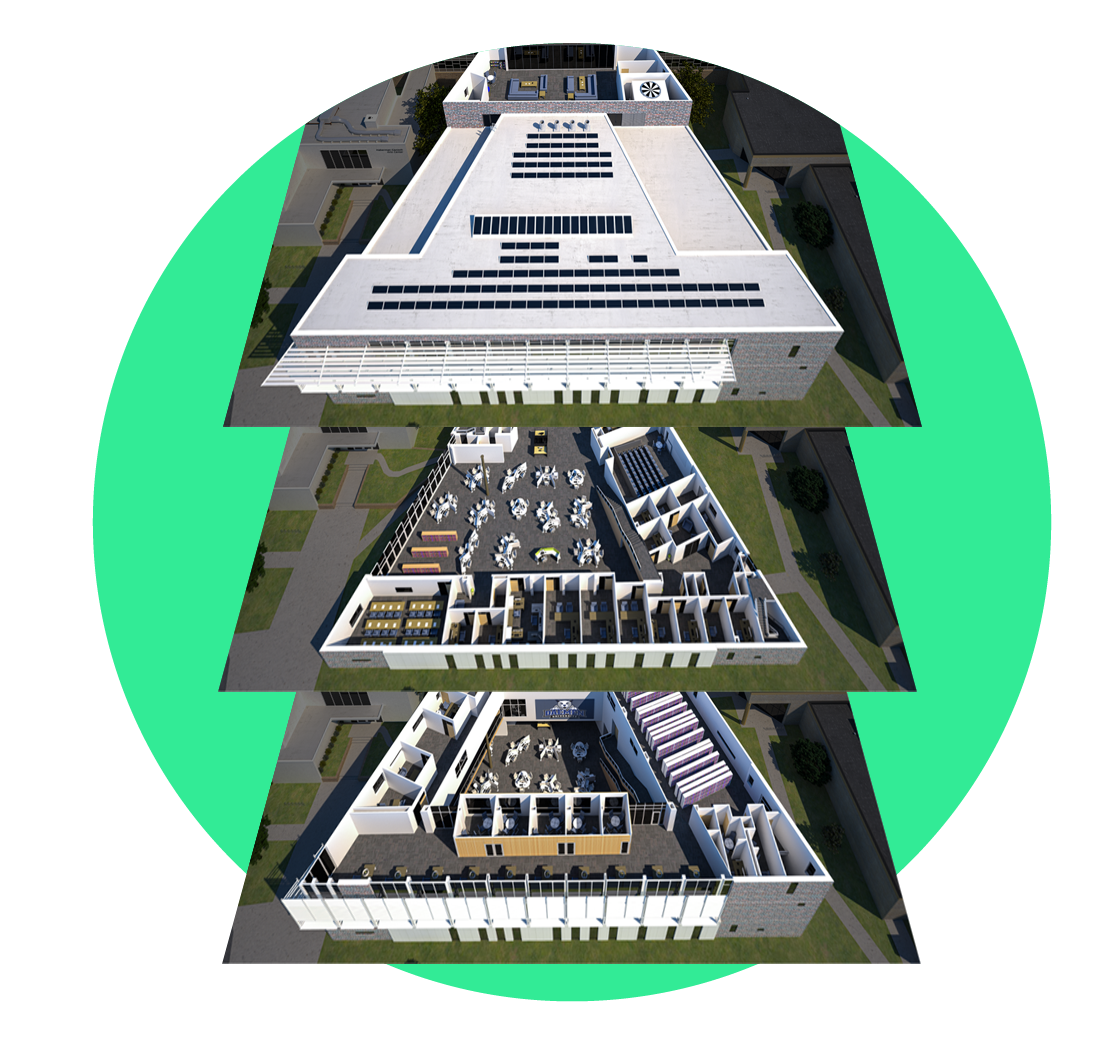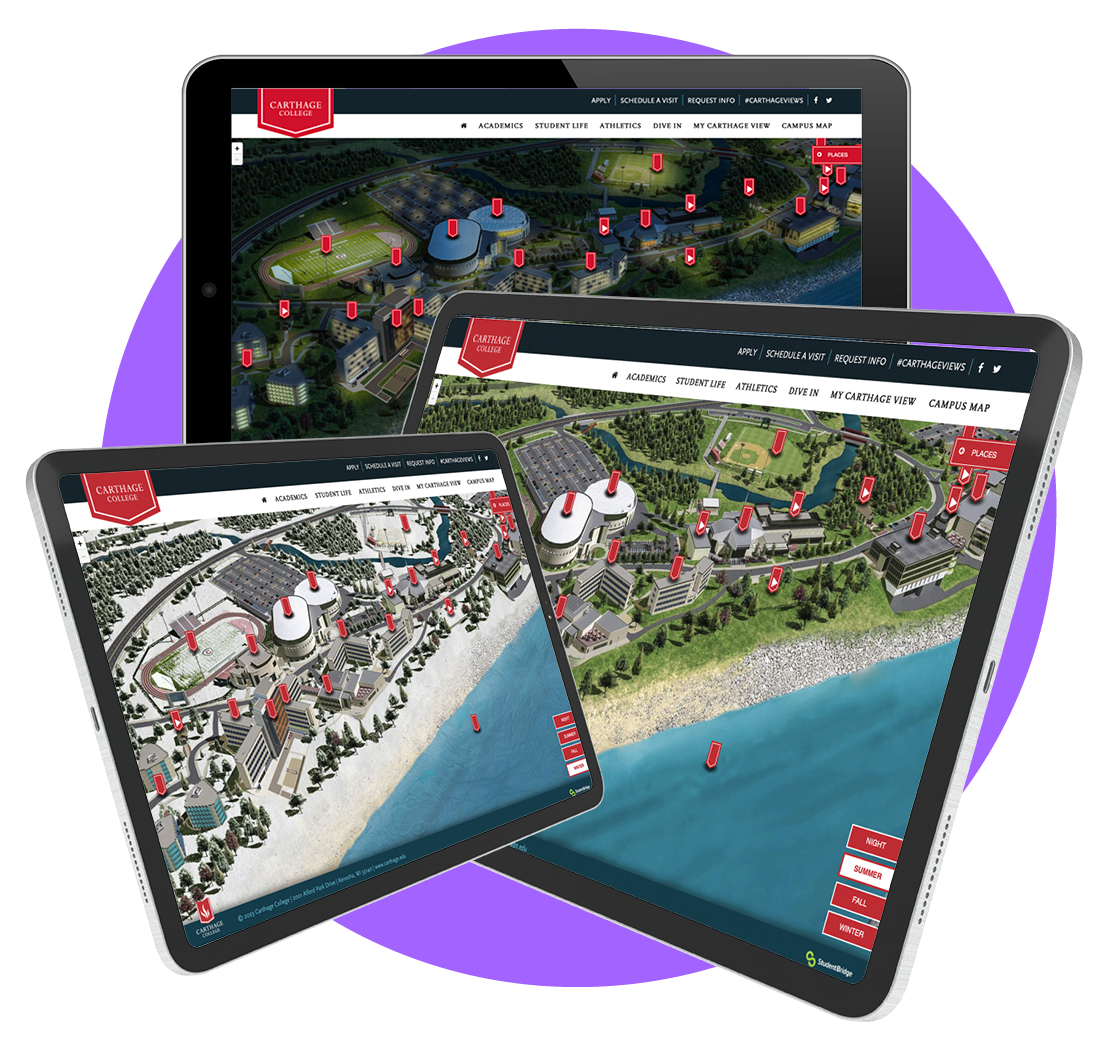 Make seasons a selling point
Get snow? Have stunning fall foliage or spring flowers? Seasons are part of what makes life at your institution unique — and not all students will have experienced them. With simple season toggles, you can show students what it's like on campus throughout the year!
Toggle from day to night
College students are often on campus at night, but tours are often taken during the daytime. Illustrate what your campus looks like any time of the day with the day-to-night toggle. This is also a great way to showcase how well-lit the campus is and/or where emergency blue light phones are.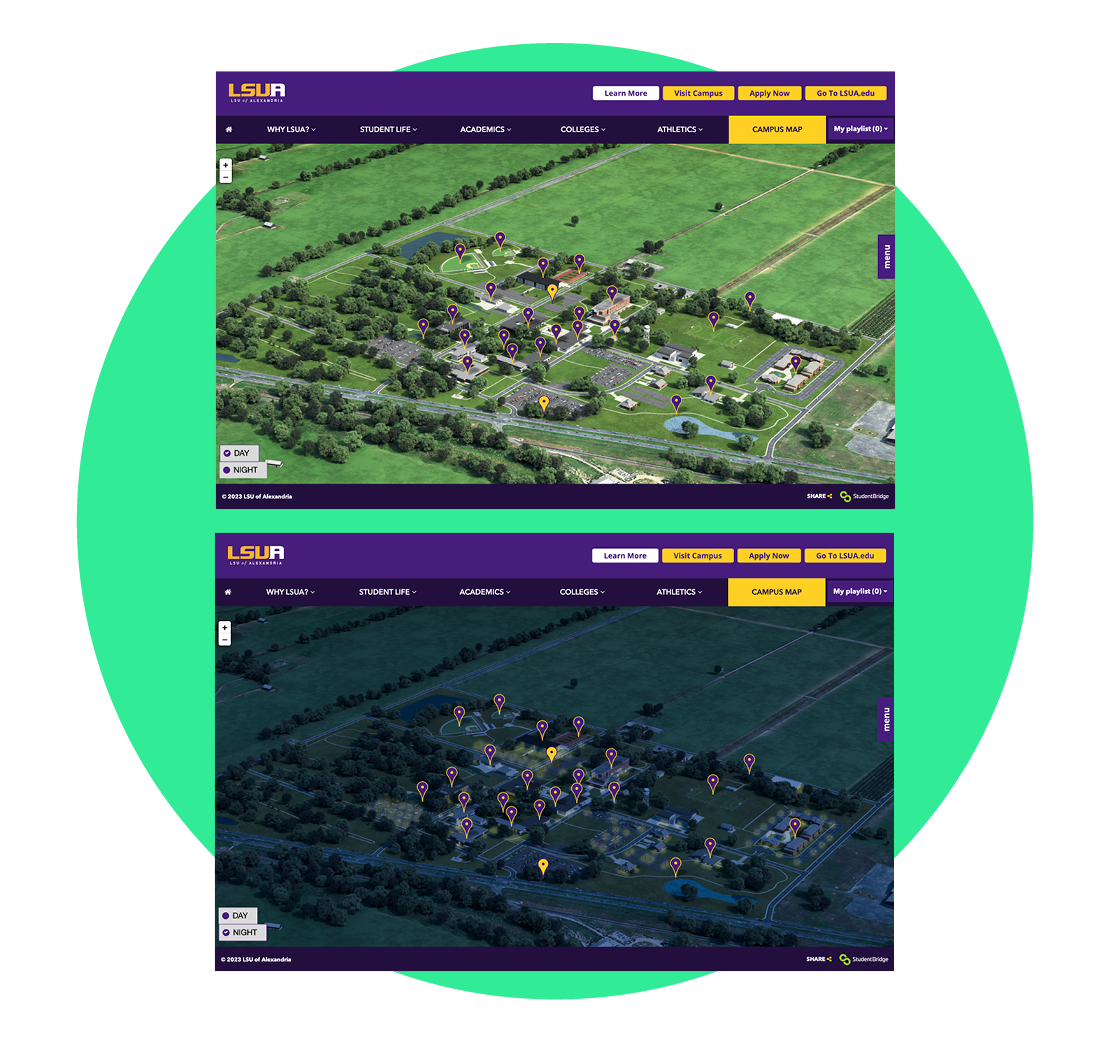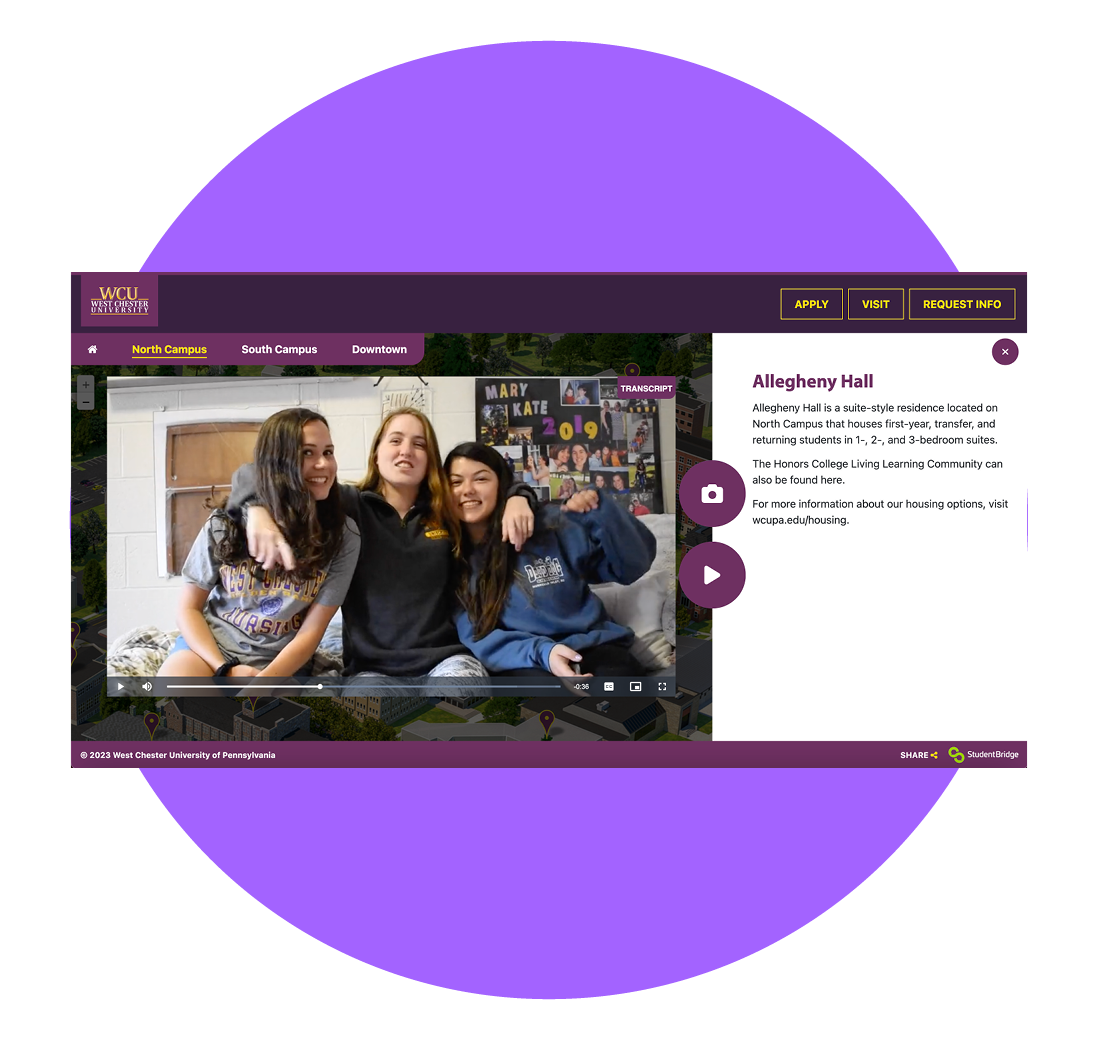 Bring points of interest to life with multimedia content
Add multimedia content, including user-generated content (UGC), to highlight what makes your institution unique and provide an authentic view of your community.
Empower students and others to explore campus anytime, from any device with a download-free interactive map
Include multimedia content, including videos and 360° imagery, within hot spots

Use our Video Content Production services to create videos that express your institution's authentic voice

Add user-generated content (UGC) and student interviews to highlight the student experience

Ensure accessibility with closed captioning, transcripts, screen reader friendly images, and transcript support for foreign languages
The data speaks for itself
%
of students said the look and feel of campus swayed their enrollment decision*
%
of students said virtual campus tours should include an interactive campus map*
Make your campus explorable anytime, from anywhere, on any device with an interactive campus map.
*College Pulse & Inside Higher Ed Student Voice Survey
Harness actionable data and insights

Visibility
Identify who is visiting campus, when, what they're interested in, and more
Results
conversions with embedded forms customized to support lead generation
Focus
Determine which content performs best to prioritize limited resources
Insights
Get a closer look at a particular time period or see the full picture over time
Experience the StudentBridge difference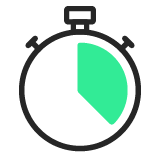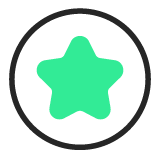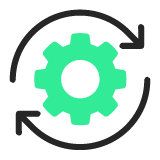 What our clients are accomplishing
Learn how our partner institutions are using StudentBridge's Interactive Campus Maps to drive big results.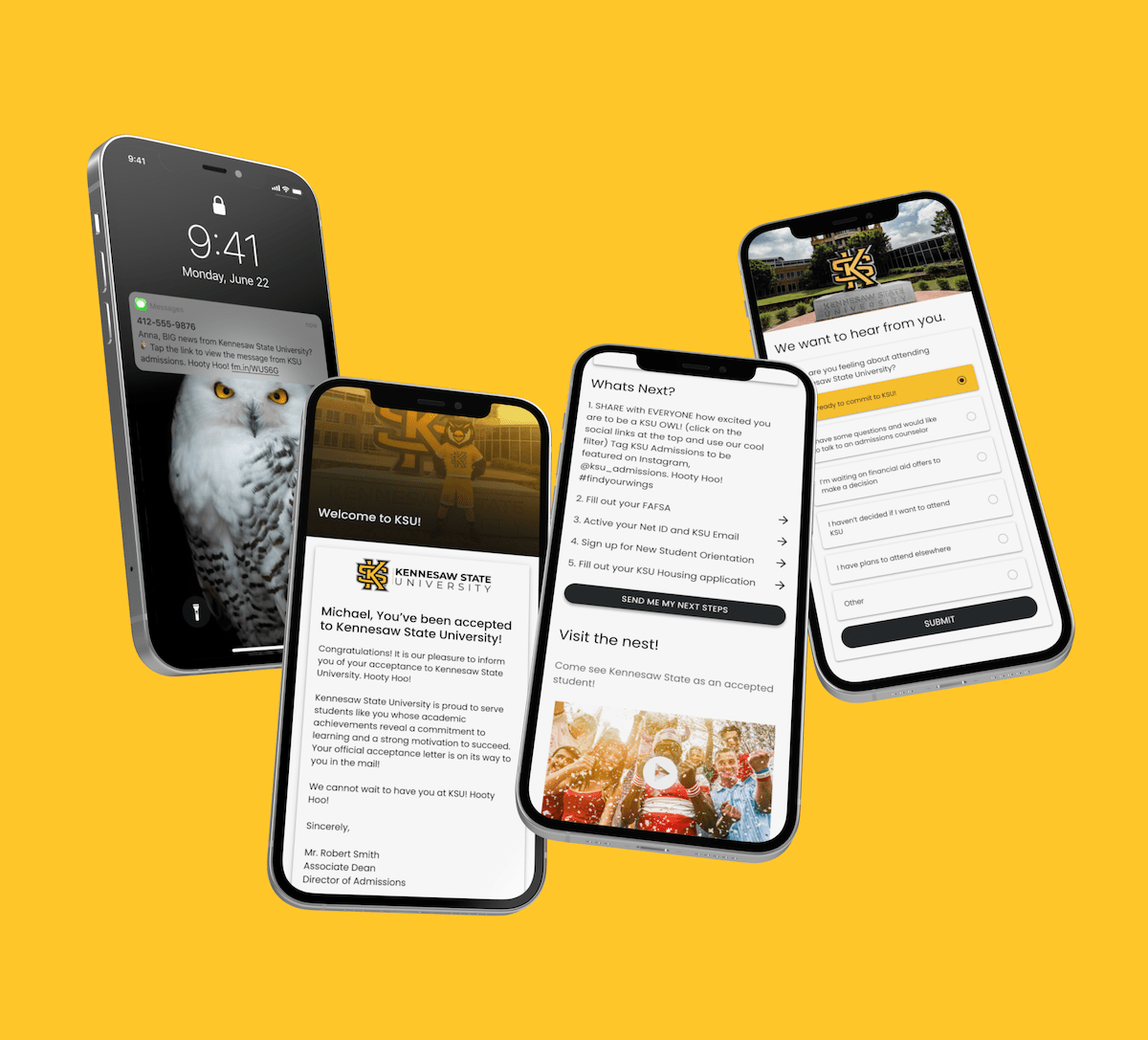 Augsburg University
Discover how Augsburg University makes it easy for prospective students to explore the institution online, offering an experience that's almost as good as being there in person.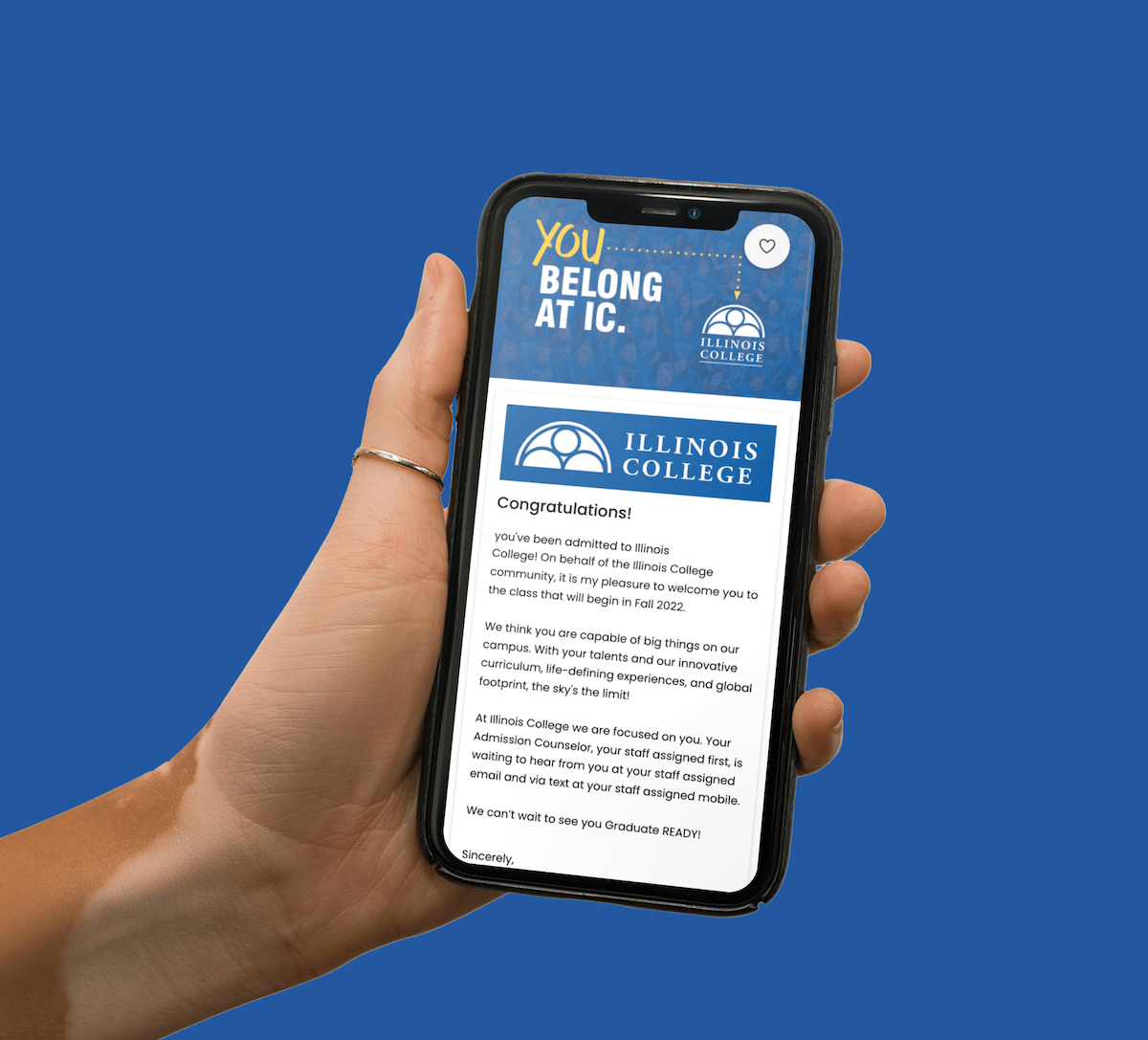 Wayne State University
Learn how Wayne State University provides an immediate and authentic view of its campus through immersive digital experiences.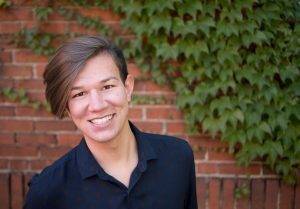 "This year we achieved 112% of our recruitment goal for new undergraduate students at Augsburg University and all indications are that our interactive map really helped prospective students get a feel for our campus."
Jack Heinberg
Assistant Director of Student Engagement | Augsburg University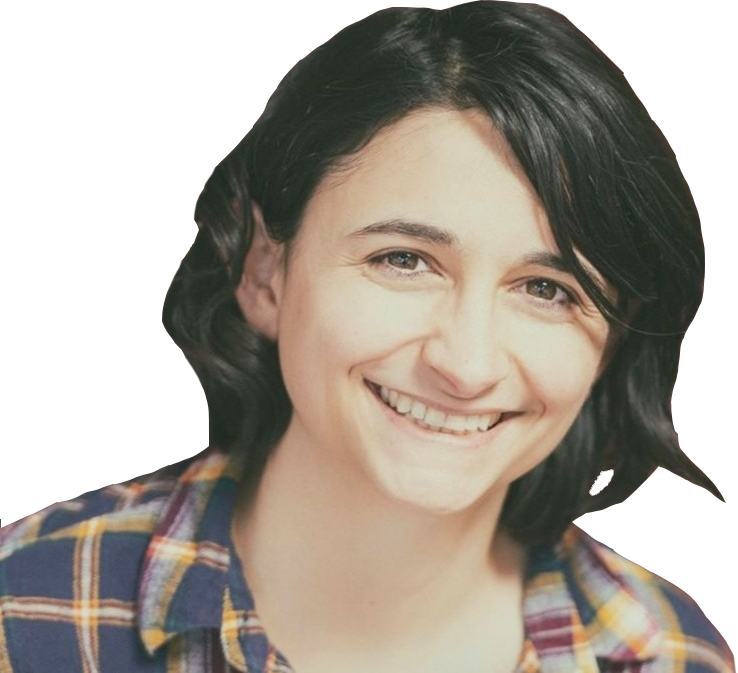 "When it comes to visiting campus, students and families need to be able to visit campuses so that they can compare colleges. The Interactive Campus Map that StudentBridge helped us with was able to still offer that in-person experience just one click away."
Maggie Sotos
Director of Communications | Augsburg University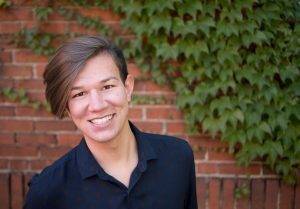 "Ultimately, we went with Student Bridge because it offered the biggest bang for our buck. The Interactive Campus Map was an easy to use interface at a really great price."
Jack Heinberg
Assistant Director of Student Engagement | Augsburg University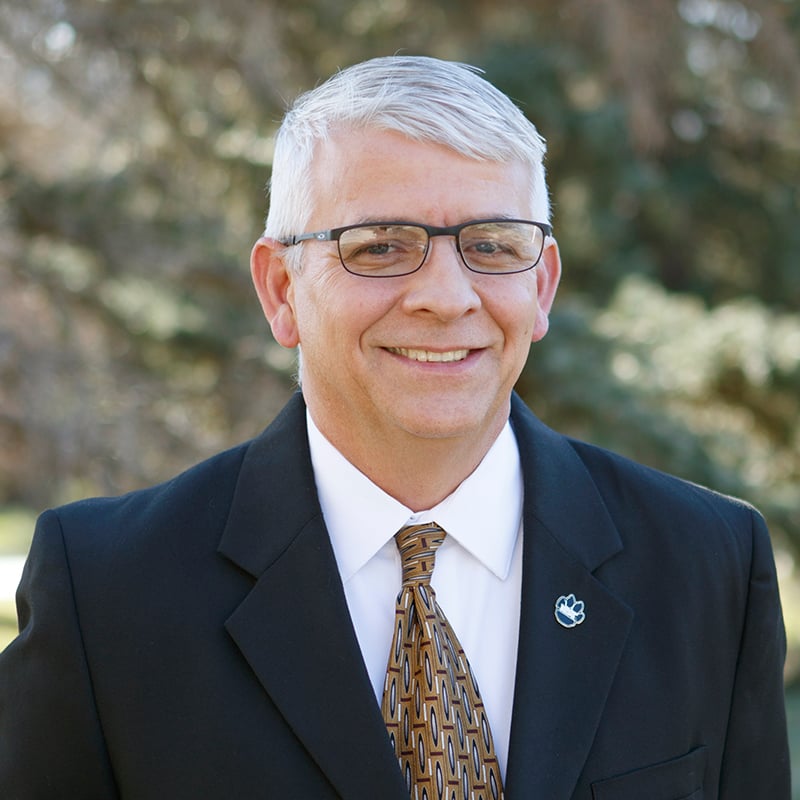 "StudentBridge built out a platform that allows us to put some really good video testimonials in front of prospective students that are current students talking about their experiences, hands-on learning opportunities, and some of the other things that are really the hallmark of a Wayne State education. That's been really good for us."
Jay Collier
Director of College Relations | Wayne State College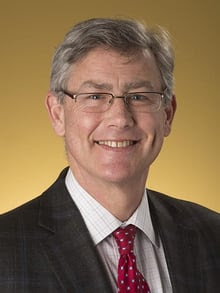 "We needed a solution that would enable us to create three types of interactions: 1) ones that help students take care of the transactional business of deciding and enrolling, 2) ones that help students get to know the campus and university and 3) ones that help students make meaningful connections to faculty, staff, and current students. For us, StudentBridge had all three."
Jeff Gant
Director of Undergraduate Admissions Enrollment Management | Montclair State University
The Ultimate Guide to Improving Campus Visits
6 key strategies to improve your higher education institution's tours — on campus and off.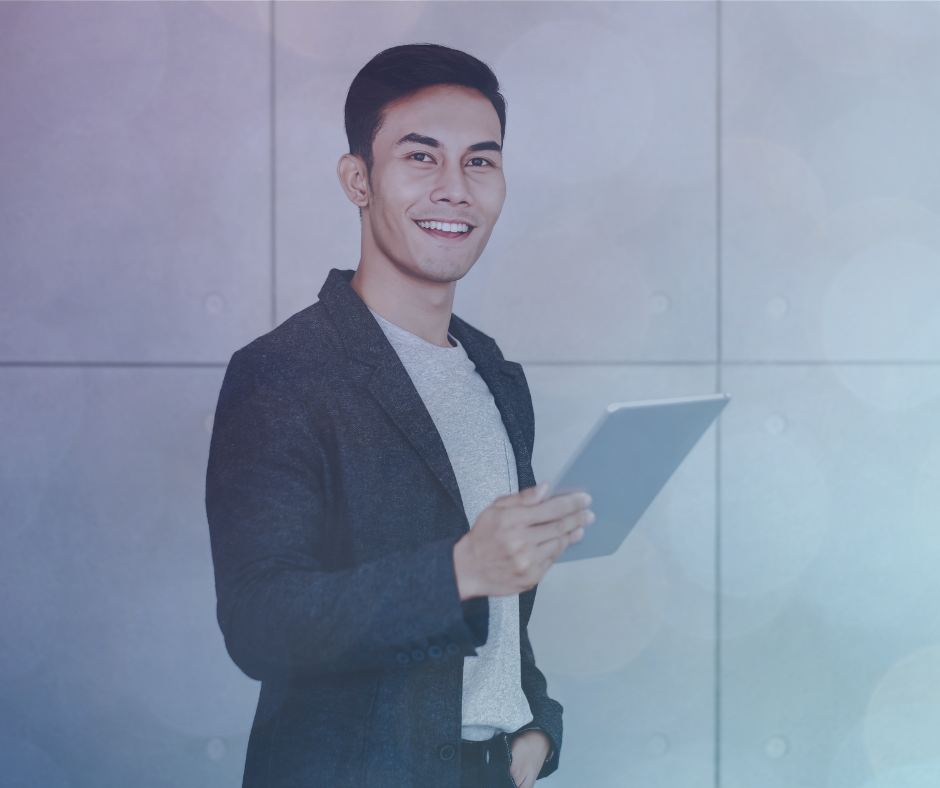 Accepted Student Experience
10 free resources higher education admissions teams loved in 2022
2022 brought a lot of insights for higher education admissions teams. Catch up on the free resources you may have missed to help amplify your...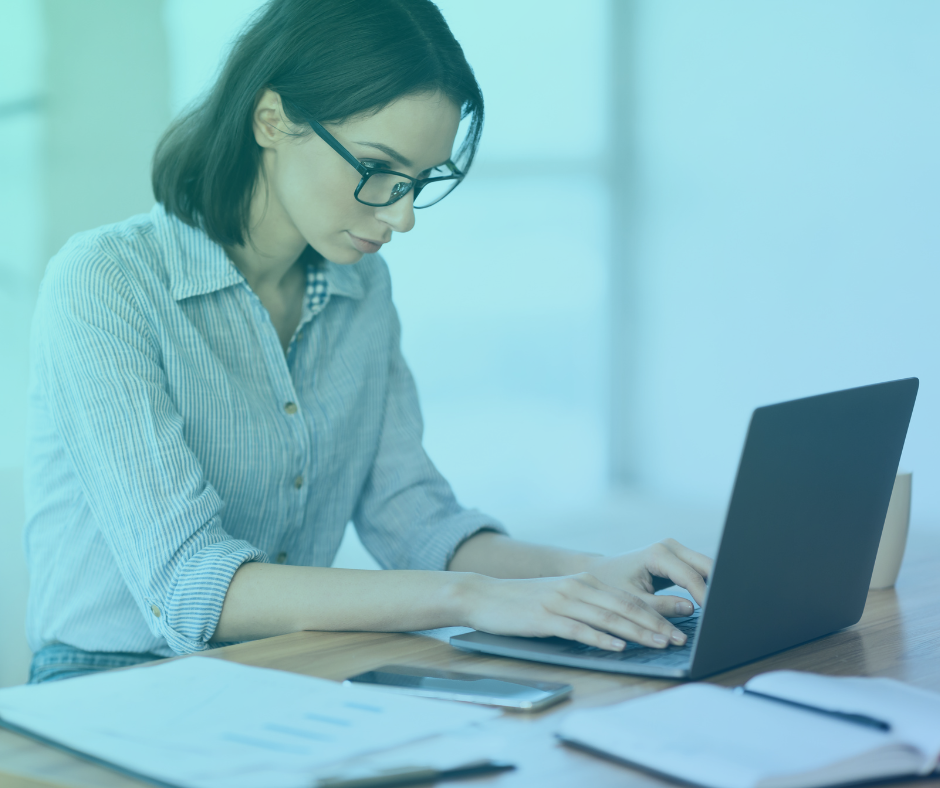 Accepted Student Experience
Ready to reverse declining enrollment? Here's what higher education institutions need to know.
Reveal key factors causing declining enrollment at colleges and universities along with practical ideas to boost enrollment at your institution.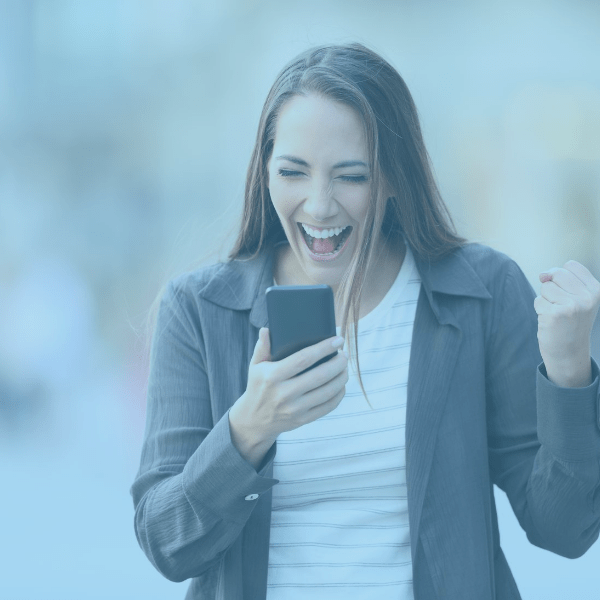 Accepted Student Experience
6 Reasons Why Reaching Admitted Students On Mobile Matters for Community Colleges
Why community colleges should use a mobile-first strategy for reaching and engaging admitted students.
Pick a time to meet with our team.