7 questions to evaluate your institution's virtual and self-guided tours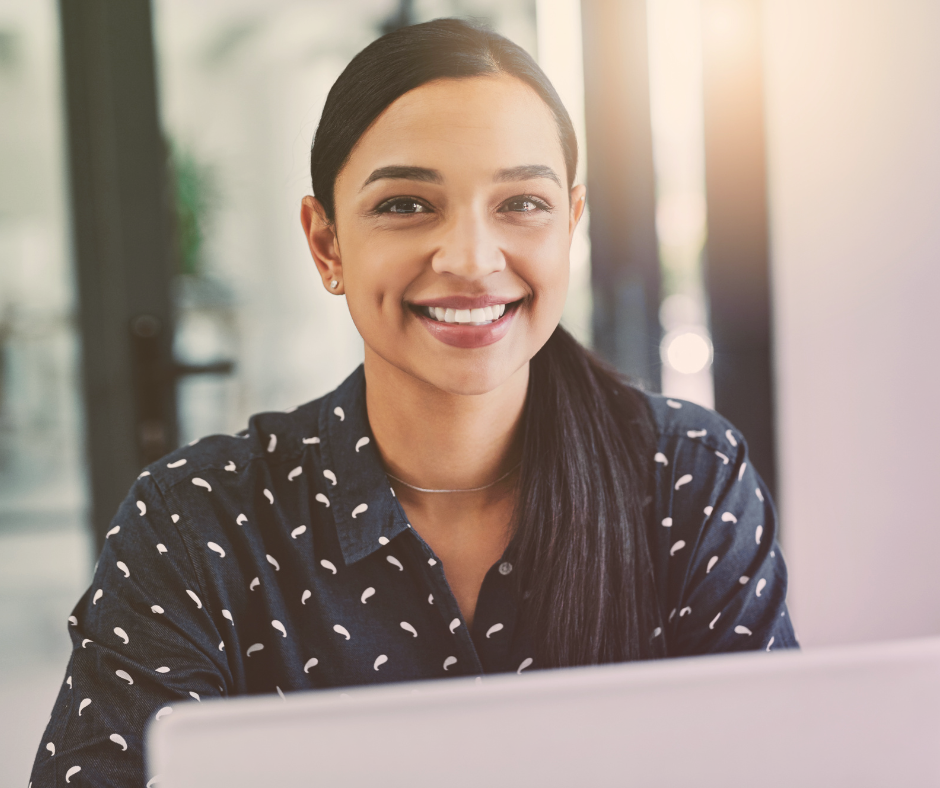 Are your campus tours doing enough to encourage college-bound students to apply and enroll? Find out by asking yourself these 7 questions.
By: Kailey MacDonald
---
I don't have to tell you how vital tours are in engaging prospective students and helping them learn about your institution. But the reality is that not everyone can make it to campus to take part in a guided visit.
That's where virtual and self-guided tours can be particularly powerful — only when they're done right.
As someone who strives to help institutions improve their virtual and self-guided tours, I know it can be easy to assume all of your tours are doing enough to attract students, drive applications, and boost enrollment. However, when you consider the increased competition for fewer college-bound students, that can be a costly mistake.
To help you evaluate the effectiveness of your virtual and self-guided tours, we've put together 7 questions for you to consider. Answering them honestly will help you determine the strengths of your existing tours, identify opportunities for improvement, and illustrate the importance of these factors when designing your tour options.
Furthermore, if you are considering multiple tour solutions, these questions can help you understand the strengths and weaknesses of each to help you implement the best solution.
1. Are your tours available 24/7/365 from any device?
This might be obvious, but it's definitely worth stating: You should have tour options that are accessible anytime, from anywhere, on any device. (Making tours accessible from phones, tablets, and computers is particularly helpful for those who may only have access to the internet from their phones at home.)
This doesn't mean your guided visits need to be available 24/7, but it means your virtual tours should be. If your tour offerings are only available when your admissions office is open, you could miss out on a bunch of prospective visitors — particularly international students or those visiting from other US time zones.
It's worth noting most of our clients see the greatest tour participation after typical business hours (Monday through Friday, between 5 p.m. and 9 a.m. local time), including Maryville University where 65 percent of their tours are completed after hours.
Another point of accessibility to consider is whether visitors are required to download an app to complete a virtual or self-guided tour. While it's nice to have an app as an option for visitors, requiring an app download can negatively impact your tour participation. Let's be real: We all have enough apps on our phones. Do your prospective students a favor and ensure there's another way to visit your institution as well.
Tours powered by StudentBridge, for example, enable students to visit via a Progressive Web App (which does not require any downloads to tour) or by downloading an app — putting the choice into visitors' hands. Literally.
2. Are your visits designed to engage various audiences?
'One for all' shouldn't apply to tours. Especially when you consider the varying audiences that visit your institution. First-year students. Transfer students. Accepted students. Families and other supporters. First-Gen students. Students' friends. Guidance counselors. Alumni. Donors. The list goes on.
Now, it may not be practical to design a tour for every visitor. But you should have a few different tours in place for the key visitors you have. For example, many of the institutions I work with (including North Dakota State University) have a tour specifically for first-year students and another for transfer students because they often have different interests and priorities when considering an institution.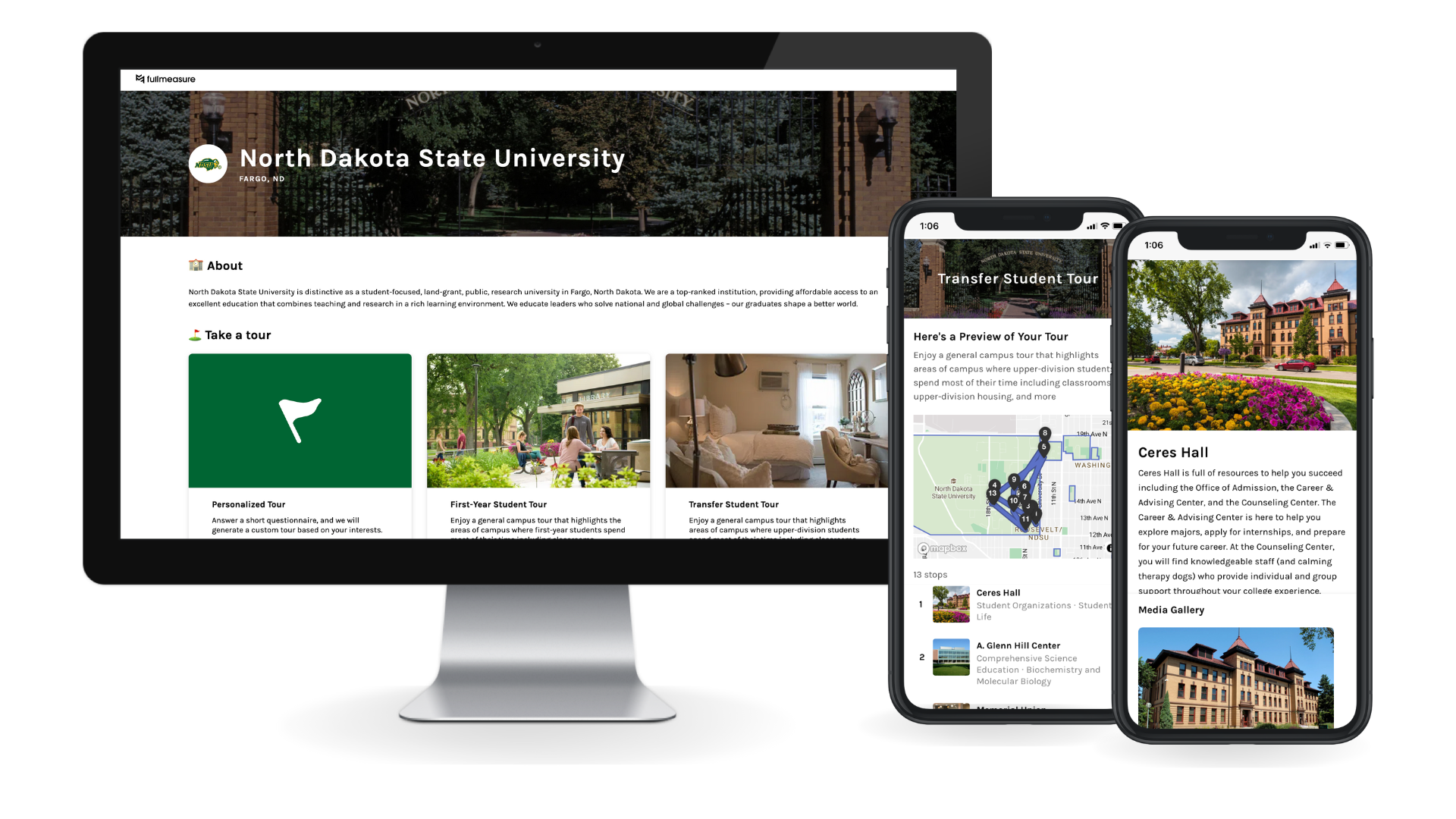 It can also be helpful to curate tours for each campus (like Arizona State University), specific colleges/programs (like Colorado State University), or key topics (like Converse University, where they offer curated tours based on topics of interest such as Student Life, Campus Living, and Dining at Converse).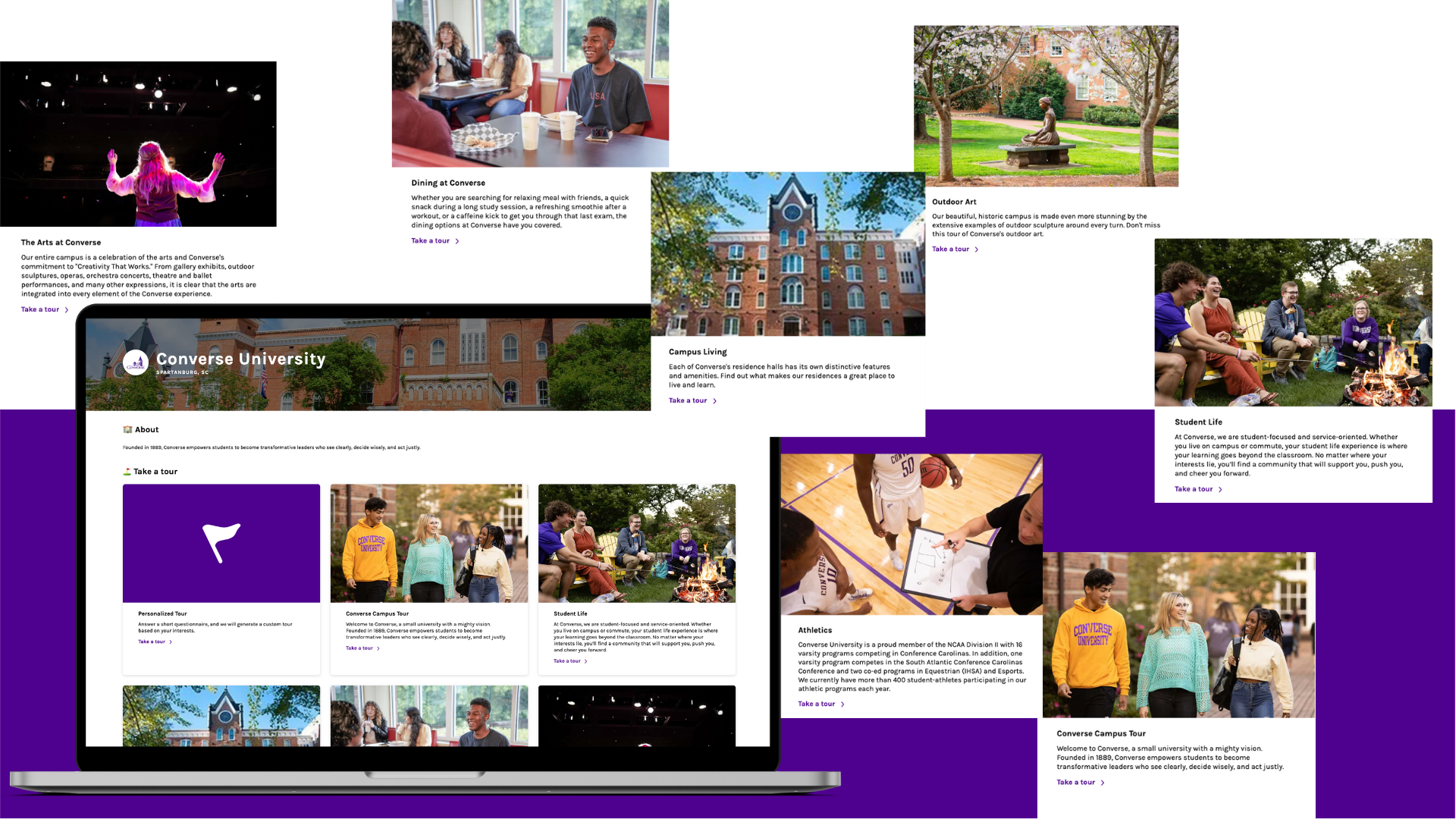 You might also consider offering virtual tours in additional languages if you are looking to broaden your reach, like Arizona State University does by providing their Open Door event tour in both English and Spanish.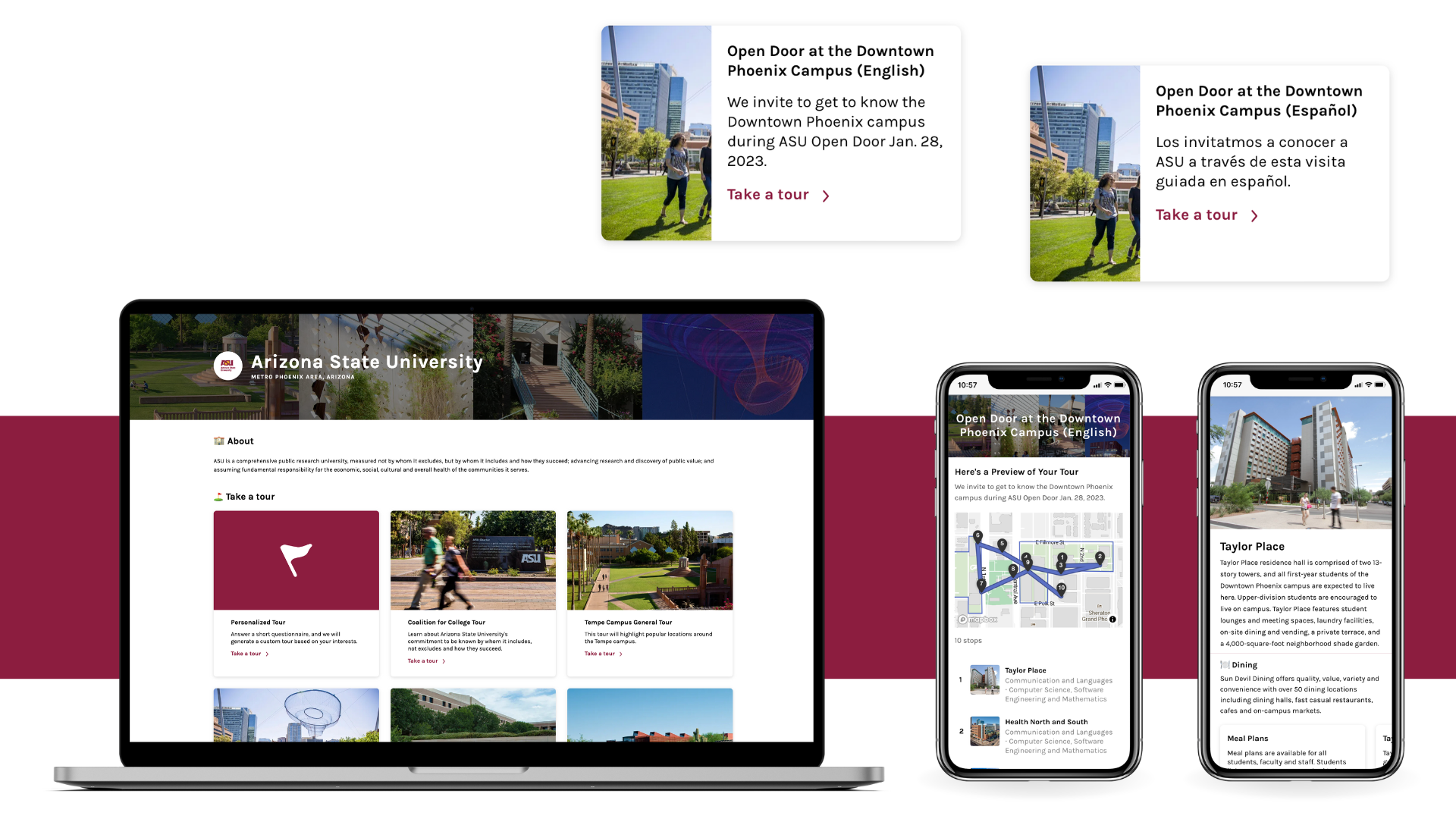 With so many ways to ensure engaging and relevant visits, it's easy to see how providing one general tour (while a good starting point!) may not be doing enough to really engage visitors and provide them with essential information that inspires them to apply or enroll.
3.
Can visitors meaningfully personalize their tour experience?
Everyone, including college-bound students, wants personalized experiences. Particularly Gen Z. (Our recent white paper, which you can download for free, talks more in-depth about this trend.)
So, how are you personalizing the visit experience for prospective students and others? And, be honest, is it actually personalization or just customization?
Some tour solutions, for example, enable students to customize their tour based on factors such as adding or subtracting tour stops. An industry-leading approach unique to StudentBridge's Campus Visit Experience enables students and other visitors to personalize their tours based on their unique interests and needs. This approach eliminates knowledge barriers, enabling students to see all pertinent stops and information without first needing to know about the institution.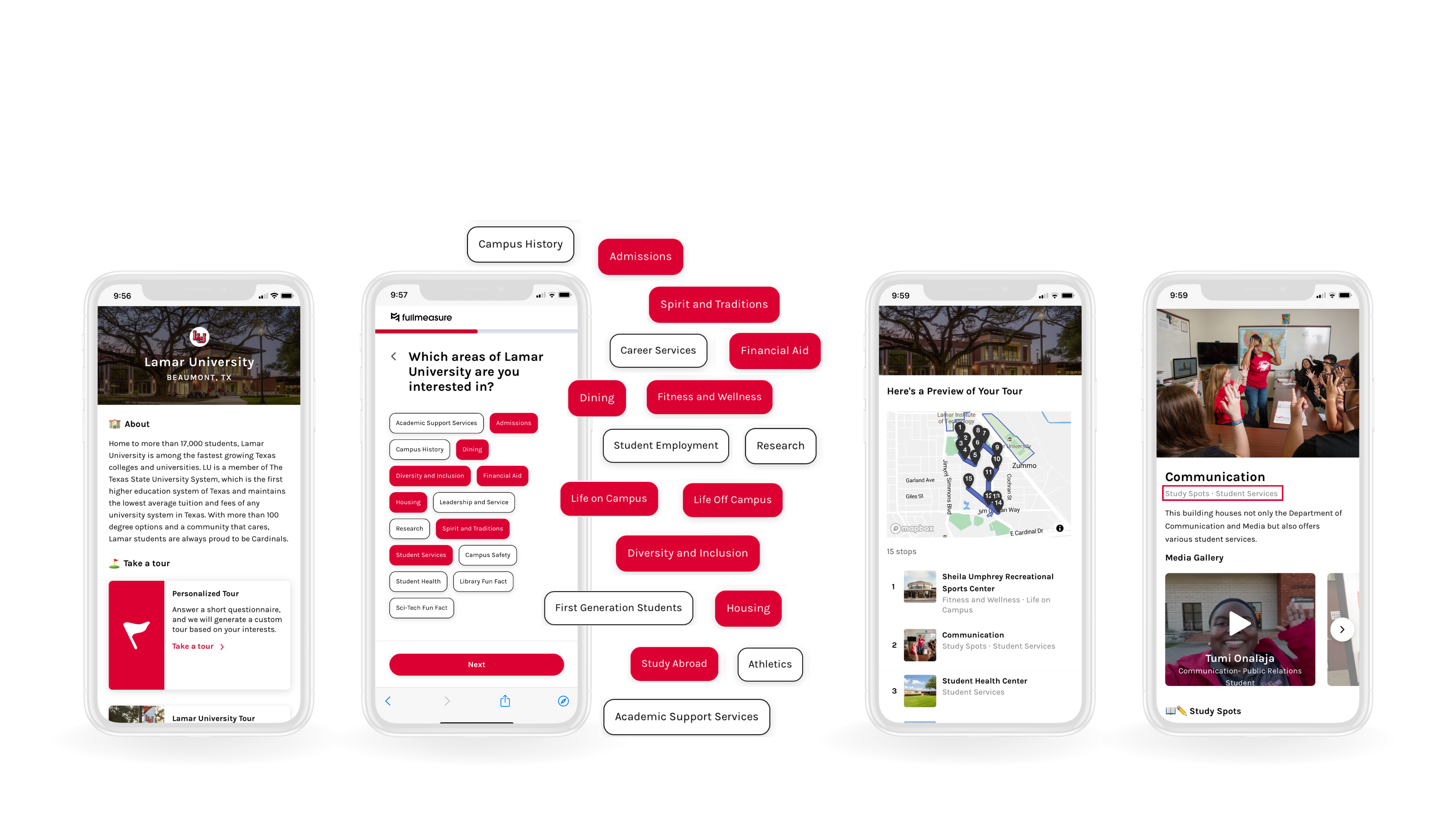 When I think about the difference, I like to think about an art student. They're going to be interested in learning about the art building (assuming it's aptly named). But will they know to check out the art gallery on the library's third floor? Or that there's a monthly student exhibit event on the quad? When you think about how to stand out from your competition and encourage students to enroll, these are the insights into student life that will make it easy for them to choose your institution.
Another way to approach personalization is to focus on academic programs and job prospects post-graduation, which many of the community colleges I work with do (like Elizabethtown Community and Technical College).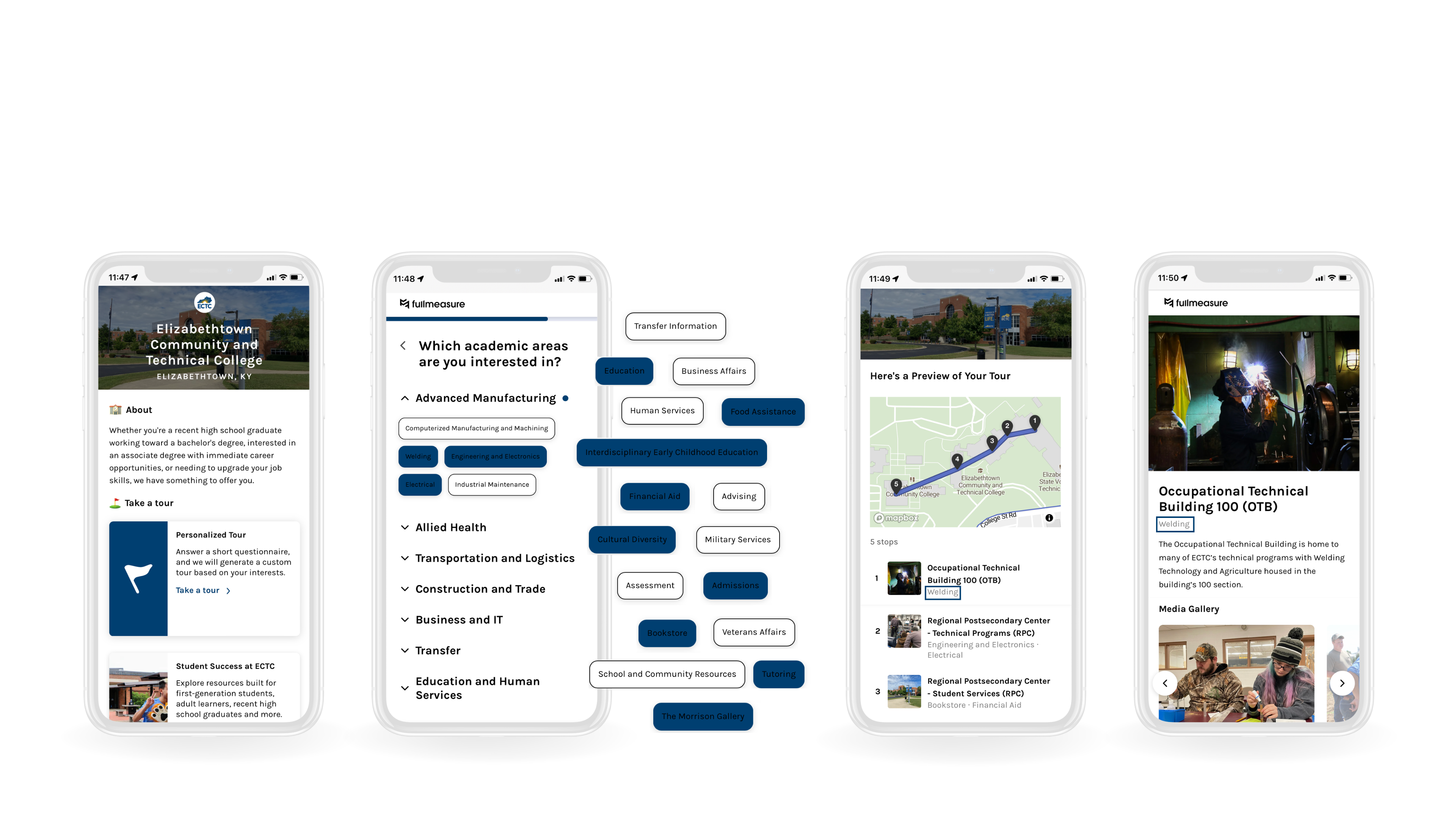 4.
Are your tours providing an authentic view of your institution?
We all love a well-manicured image or a professionally edited video, but those don't necessarily reflect the reality of what it's like to really live, learn, and have fun at your institution.
That's where user-generated content (UGC), like videos and images, from current students and faculty to staff and alumni, comes into play.
While UGC should also be a part of your institution's broader marketing strategy, including this type of content in your tours ensures you're reaching students during their college search process and providing a complete view of your institution.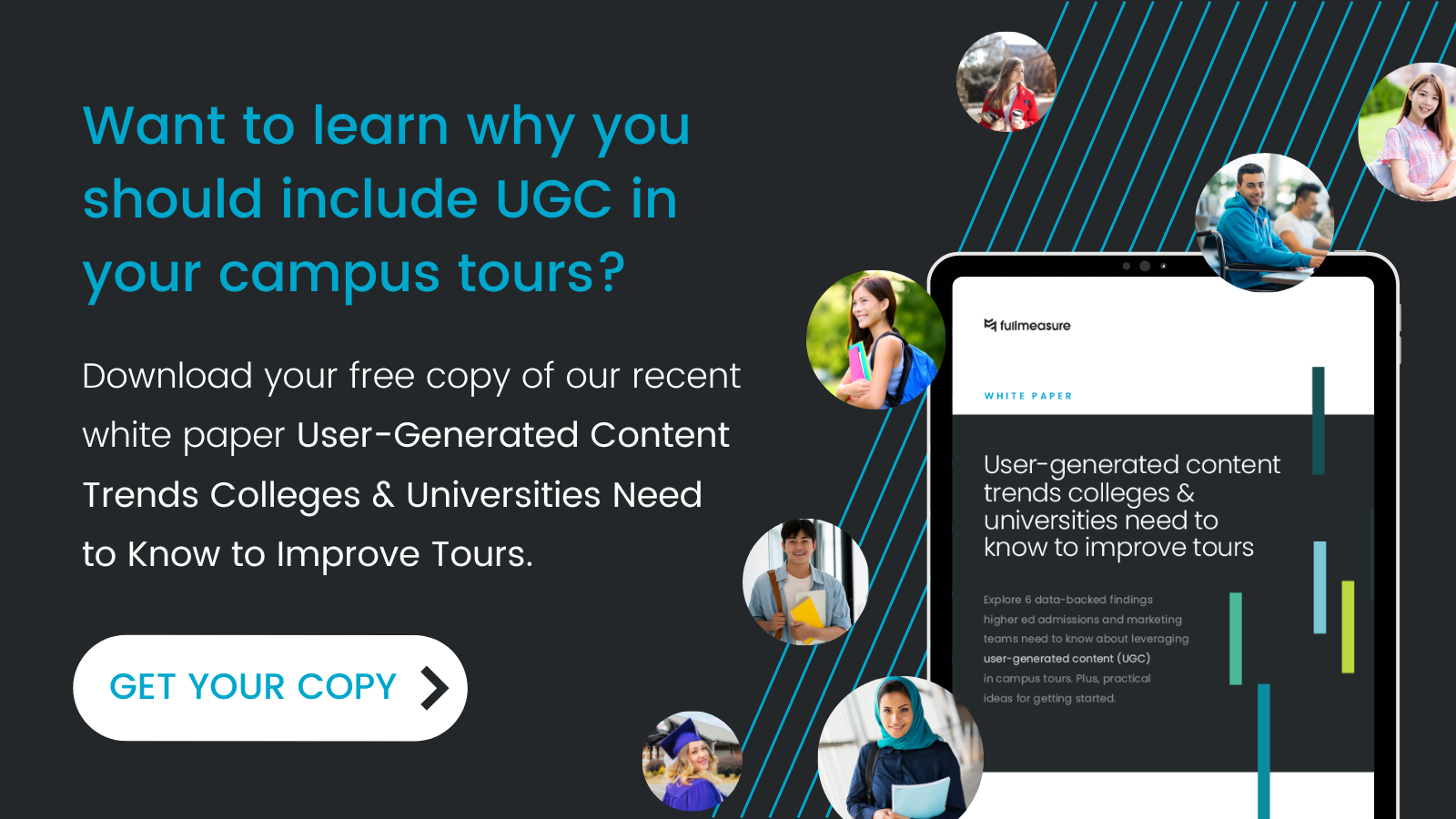 This content is also a great way to highlight your institution's community and diversity, which are key factors students consider when deciding where to apply and enroll.
The California College of the Arts does this well using the Campus Visit Experience. Their tours include a variety of UGC at each stop, including videos from current students, faculty, and alumni. They also include short "A Day in the Life" videos to provide even more insight about what it's like to be a student there.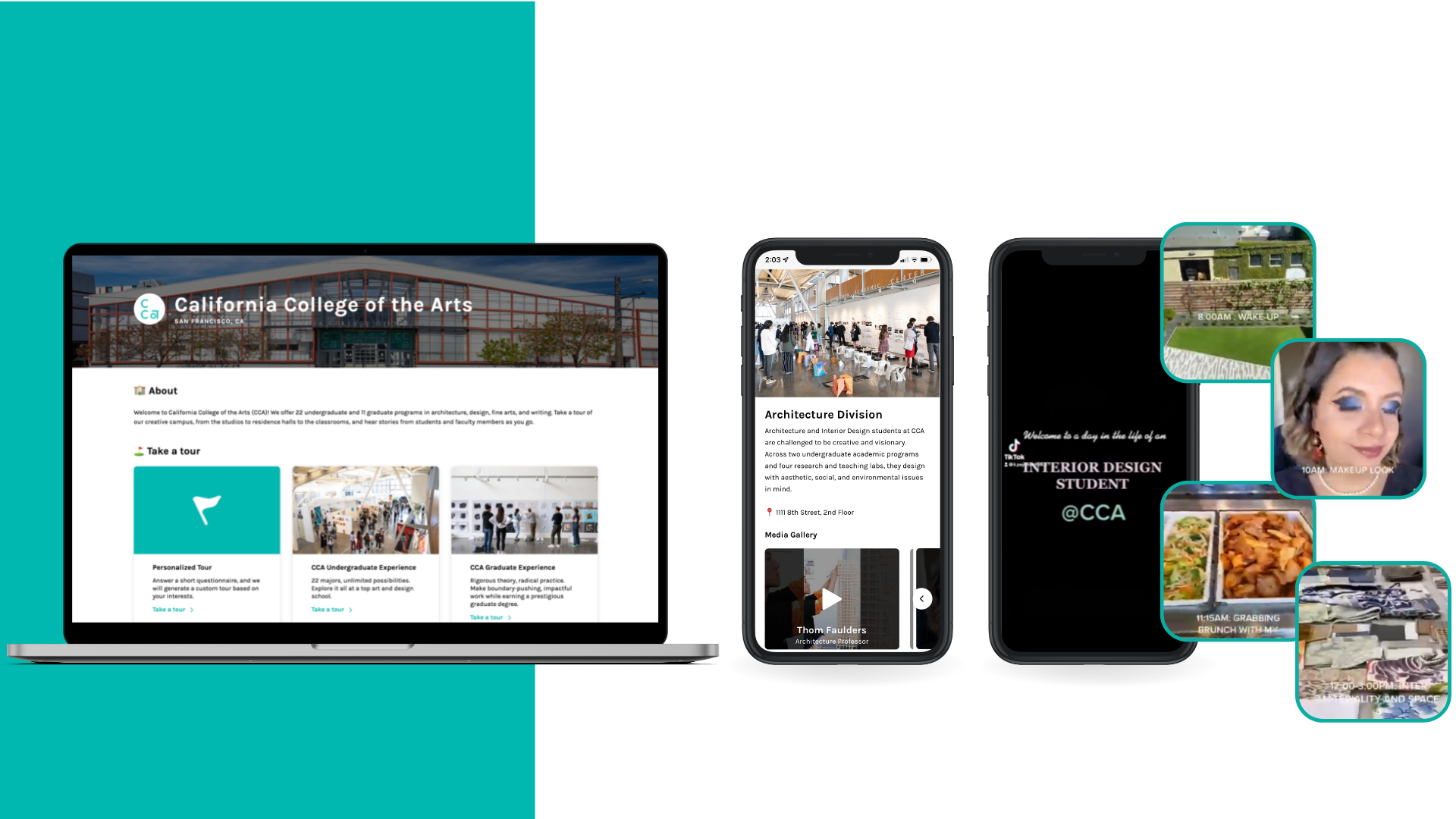 Need help to get started with UGC in tours? Check out these 6 ideas for tapping into powerful user-generated content.
Since gathering UGC can be intimidating, especially for small or stretched admissions teams, StudentBridge's platform also makes it easy to gather meaningful UGC to put into tours. Below, you can see how Arkansas State University-Mountain Home runs targeted campaigns to gather UGC from students on- and off-campus.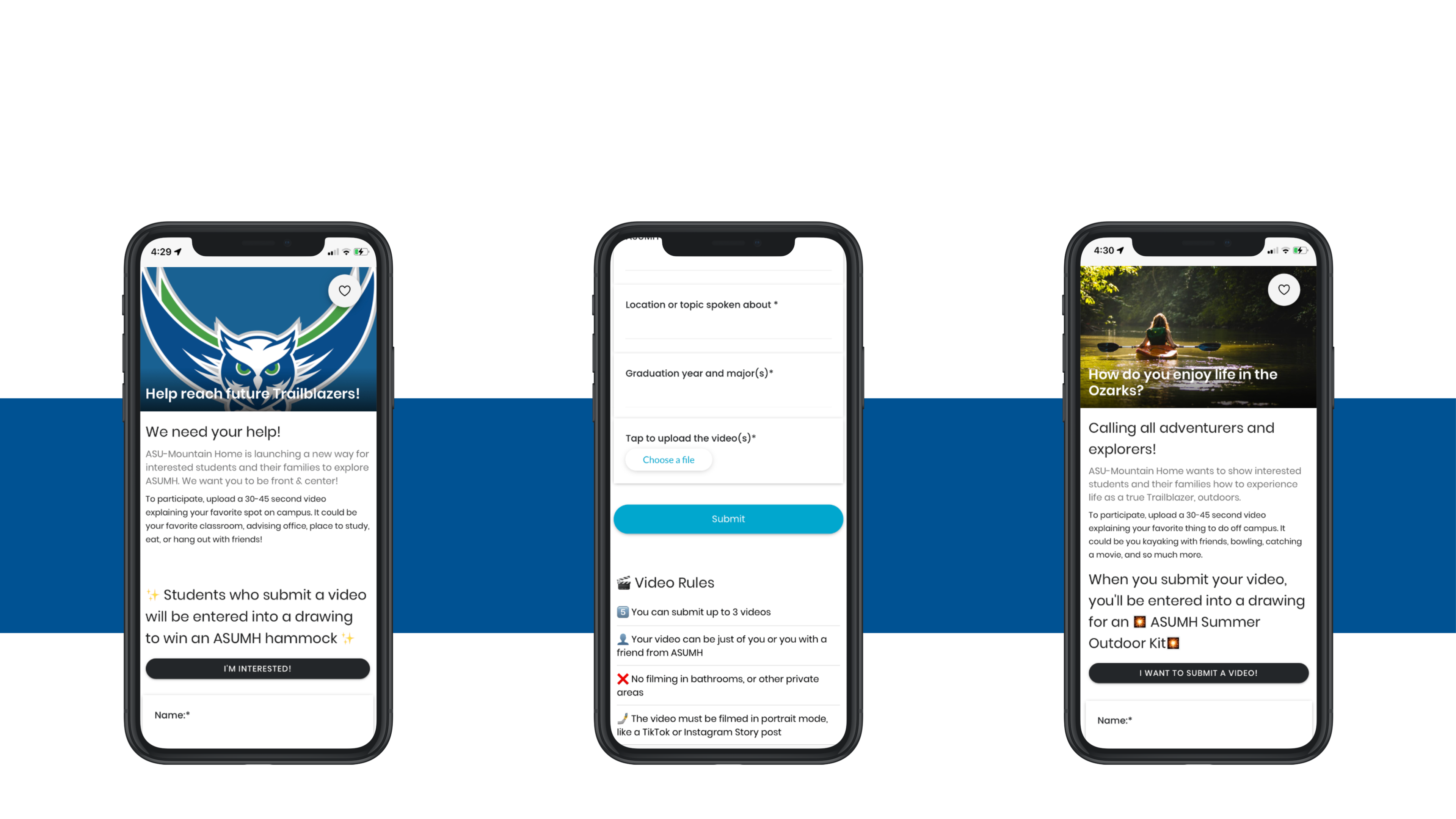 5.
How often are you updating your tours with fresh content?
One way to ensure your virtual and self-guided tours are relevant and impactful is to update your content regularly.
Some updates I've loved lately? Tours reflective of timely events. Images and videos highlighting the season and/or seasonal activities. UGC showing what it's like to live in a certain area (on- or off-campus). New 'A Day in the Life' tours.
Some tour solutions make updating content more of a hassle than it needs to be, which can prevent you from making these desirable (and, frankly, necessary) updates in a timely manner. Personally, I love that StudentBridge's clients are empowered to make tour updates anytime they want and that I can support them if they need it. Most don't because it's easy to do, but our team is always available to help when needed.
Because having to go through someone else to make the updates you need (even when they're pressing)? And then hoping the updates correct the first time around? That's extra stress your team doesn't need.
6.
How are you promoting your institution's tours?
Your tours are only effective for those who know about them and can actually take part. That's why your tour promotion strategy is critical to the success of your virtual and self-guided tours.
There are a few factors to consider with tour promotion, such as:
How are you already advertising your virtual and self-guided tours on your institution's website? Is there an opportunity to improve the user experience?

How else are you promoting your tours? (Such as targeted campaigns before, during, and after tour experiences.) What messages may not be hitting the mark? Where can you better engage students?

What channels are you using to get the word out about your tours? What channels can you add to better engage students? (For example,

text messaging needs to be on your list when you consider how students crave mobile-first experiences

.)

Where else are you promoting self-guided tours? (Think: QR codes on campus, text-in keywords, flyers, etc.) What methods can you add to better promote tours on campus?
Some tour solutions focus on the tours themselves and overlook the features that help institutions actually drive students and their supporters to take part in tours. With the Campus Visit Experience, institutions are not only provided with compelling virtual and self-guided visit experiences but also get access to the StudentBridge engagement platform (complete with relevant communication templates) to help admissions teams design and send personalized content every step of the visit process. This infographic does a good job illustrating what meaningful tour communications can look like.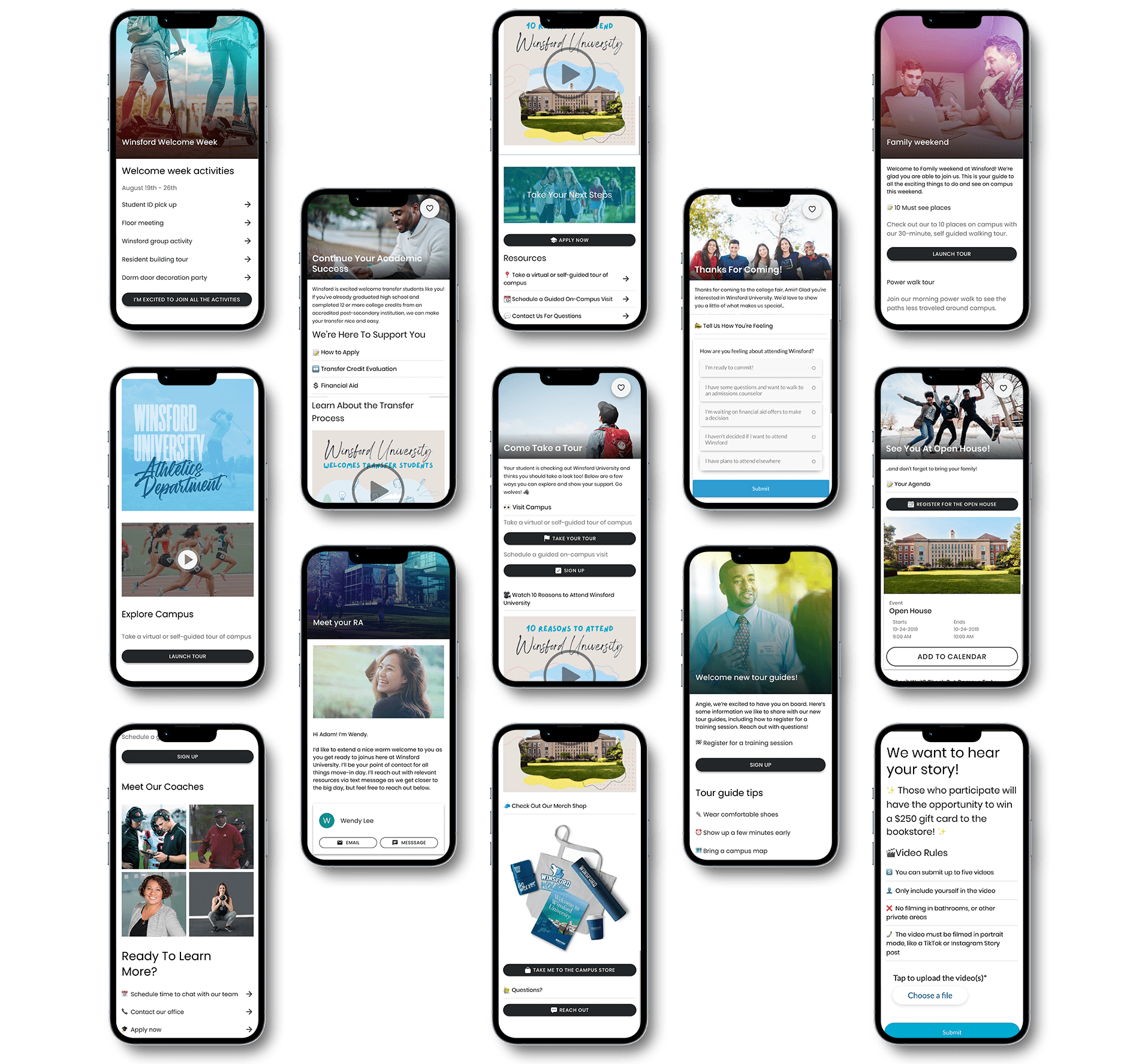 You also want to consider promotions from other sources. For example, if your virtual tours are hosted on other websites or platforms, how are they organized on the page? Alphabetically? By the number of visitors or popularity?
While this (hopefully) isn't the only way students and other visitors are discovering your virtual tours, it is a useful channel! How your tour is presented on that page can determine whether you're encouraging more visits. For instance, StudentBridge organizes partner institutions' tours alphabetically, making it easy for visitors to find and participate in the tours they're looking for.
7.

What is the experience like for visitors who

can

make it to campus but

cannot

take part in a guided tour?
I want to focus on self-guided tours here because these experiences can be lackluster if not approached properly. For example, paper maps or a PDF may not be doing enough to excite and engage your visitors — which means they're less likely to apply or enroll.
So what makes for an effective self-guided visit? In my experience, it requires a few key things:
Interactivity: Go beyond paper maps or PDFs and bring your campus to life with interactive tours

Walkability/Driveability: Offer logical tour routes and turn-by-turn navigation to ensure visitors make it to each stop

Discoverability: Make it easy for visitors to discover new places with augmented reality (AR) and interactive signs
Self-guided tours powered by StudentBridge offer all the above and more. While all of StudentBridge's tours can be completed virtually or as a self-guided visit (including personalized tours), I love how the University of South Carolina has gone above and beyond to ensure an engaging on-campus visit by offering curated walking and driving self-guided tours.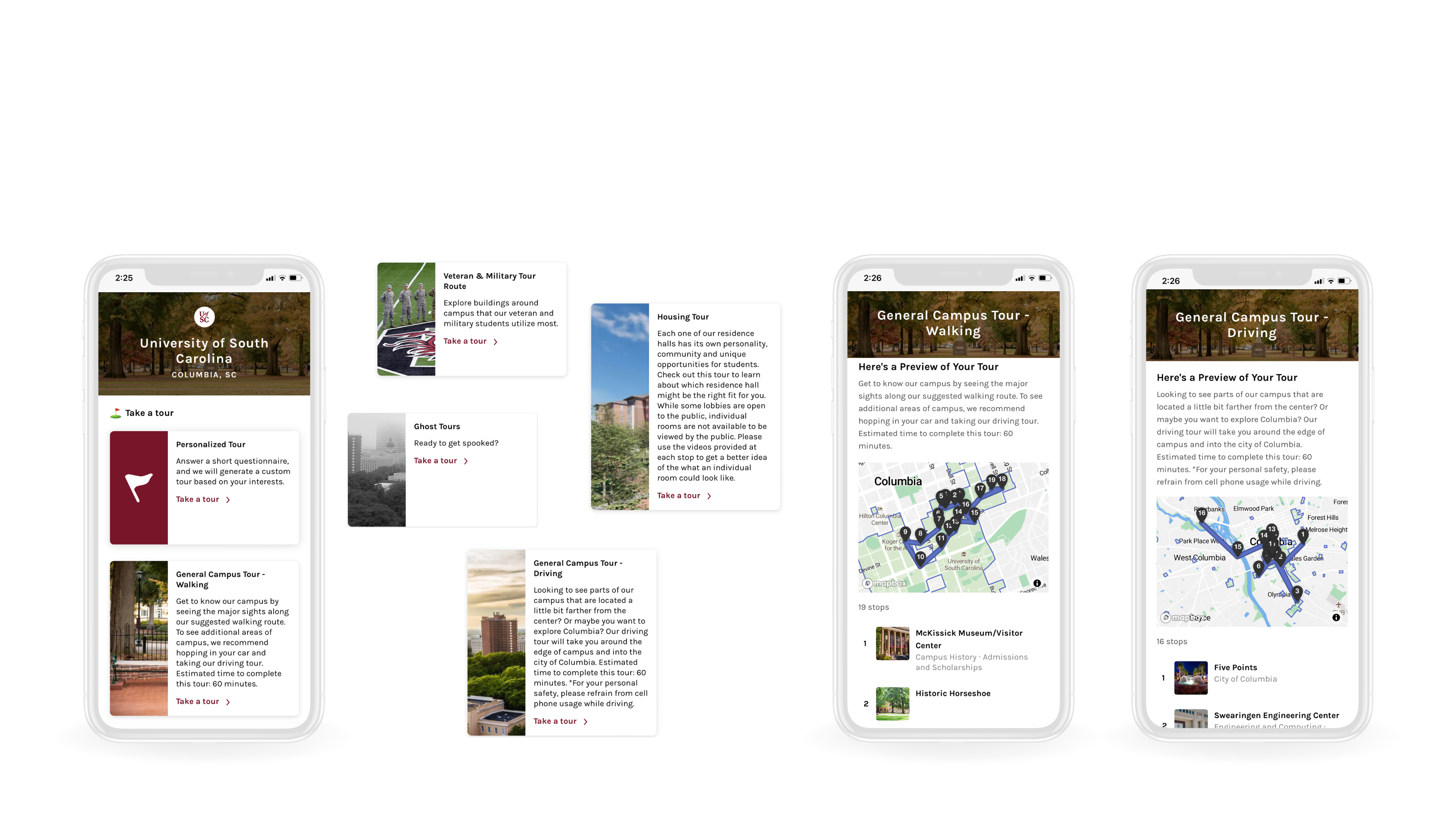 Bonus question for those considering a new tour solution: What's the implementation timeline?
Do you have 4+ months to wait for a new, impactful tour? I didn't think so.
When it's time to upgrade your tours or roll out a new visit solution, speed is key. I've seen institutions launch StudentBridge's Campus Visit Experience in as little as 2.5 weeks. Since it's a scalable approach, you can start with one or as many tours as you'd like and then continue adding new tours and content as you have the capacity/need.
While creating tours with our solution is easy, we also offer Concierge Onboarding for institutions whose admissions teams may be overwhelmed or who are looking to get started right away.
---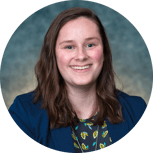 Kailey MacDonald (she/her/hers) is a creative, client-focused professional with a passion for finding innovative ways to connect with others. Beginning her career in higher education, MacDonald has worked in roles ranging from conference and housing management to orientation programming, honing her skills in training and student development along the way. She has a bachelor's and master's degree in Spanish and Latin American Studies from American University. Currently, MacDonald serves as a Customer Success Manager at StudentBridge.