Open the doors to explore with the
Campus Visit Experience
Ensure relevant tours every time with 24/7 access, unmatched personalization, and a true tour experience from anywhere.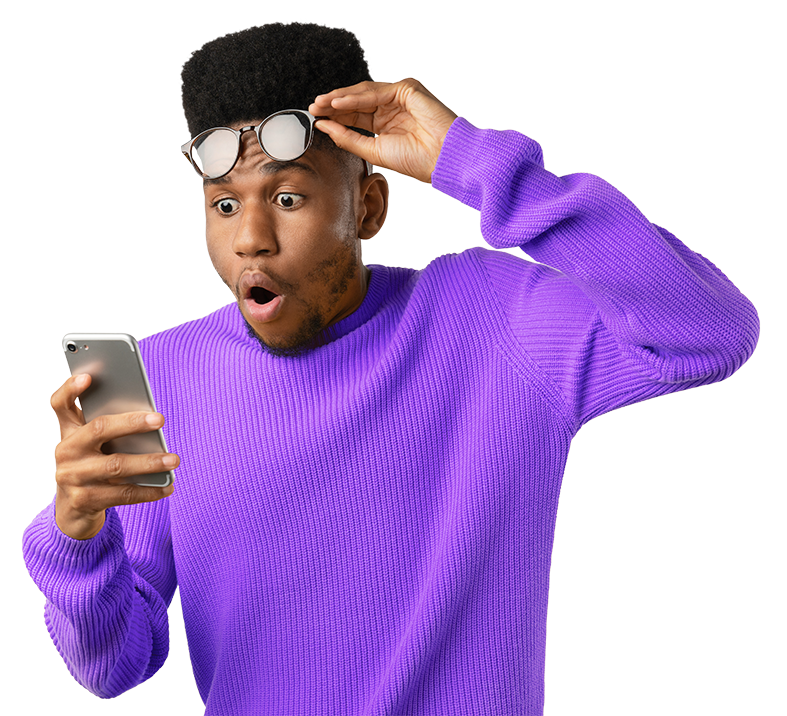 Virtual and self-guided campus tours like nothing you've experienced before.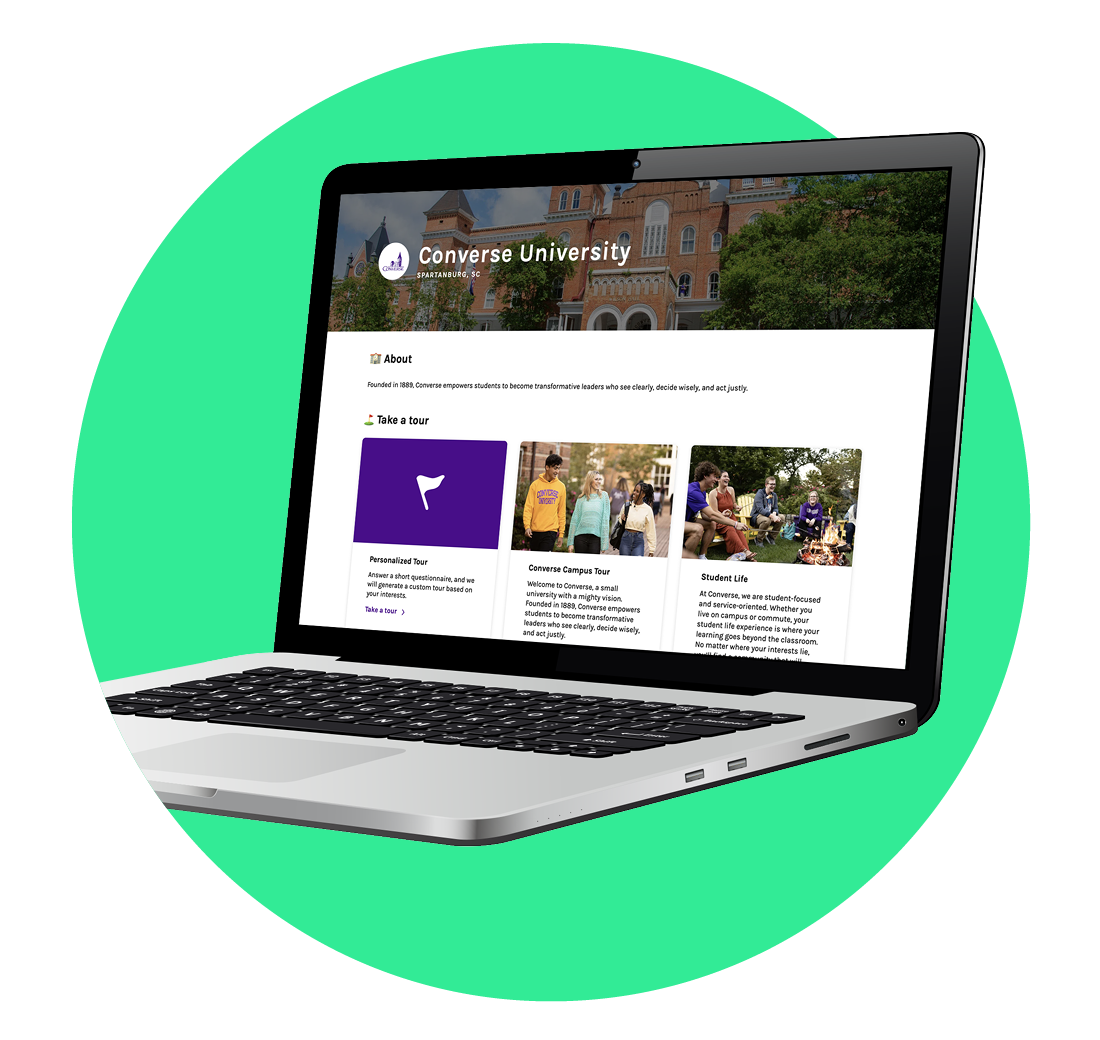 Open the doors to more
Highlight the best of your institution
Design unlimited curated tours that can be completed anytime, from anywhere (no downloads required!)
Showcase multiple campuses or areas

Enable students to explore key programs and learning journeys

Increase accessibility with tours in additional languages

Create tours for specific audiences, like first-year students, parents, transfer students, adult learners, and alumni
Offer true tour personalization
Ensure memorable tours every time by empowering visitors to personalize virtual and self-guided tours based on whatever matters most to them
Enable personalization based on visitors' unique interests and needs (no prior knowledge of your campus or programs required!)

Automatically generate personalized tour routes with relevant stops

Share meaningful follow-up content based on students' demonstrated interests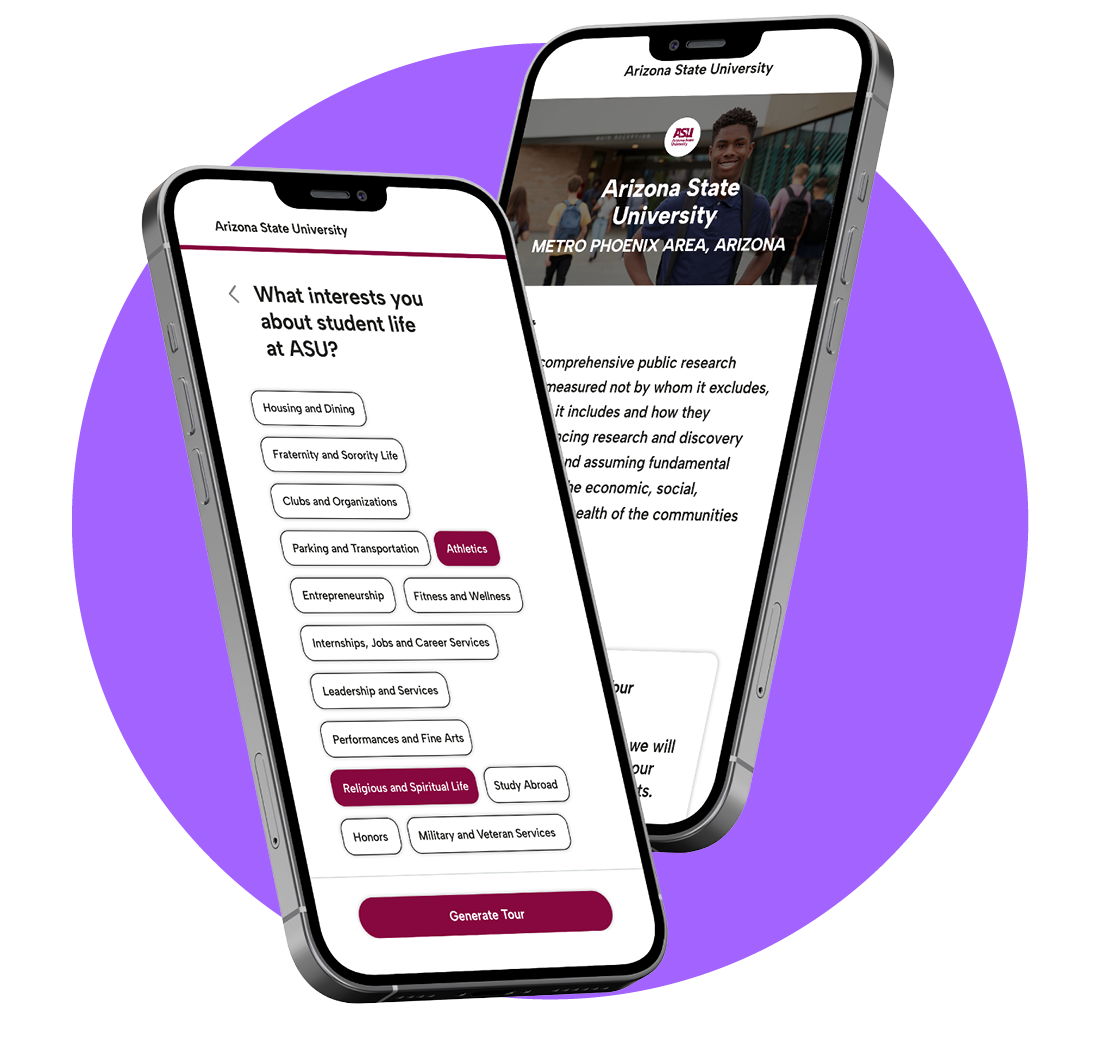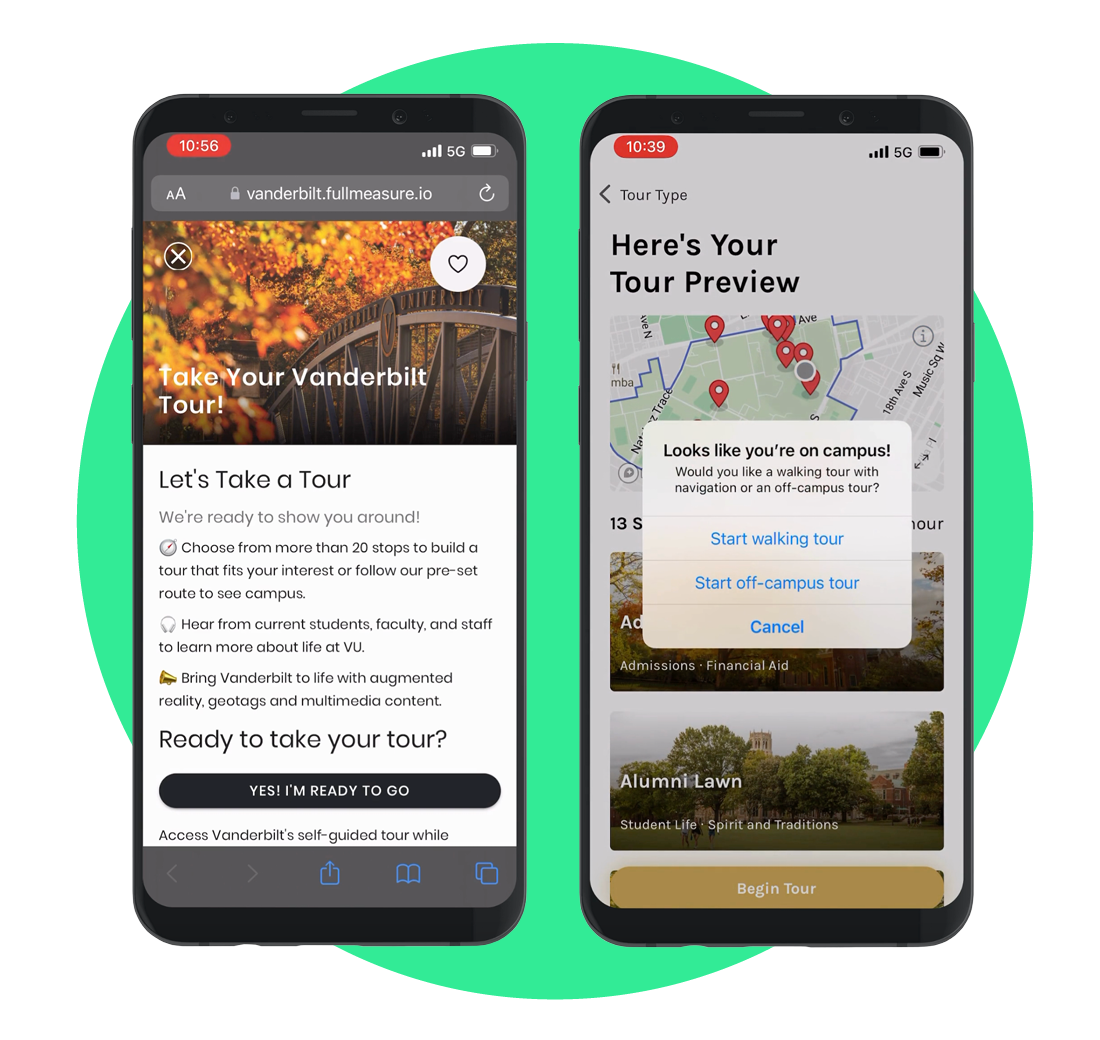 Give every visitor their own personal tour guide
Offer dynamic, interactive self-guided tours that can be taken 24/7/365
Automatically generate a logical tour route and get visitors from point A to Z — and every influential stop in between — with turn-by-turn navigation

Enable visitors to learn about other points of interest on campus using augmented reality (AR) that helps identify key locations

Encourage further exploration by making it easy to take another tour or add stops to an existing route

Create tours for specific audiences, like first-year students, parents, transfer students, adult learners, and alumni
Amplify authenticity with user-generated content
Put student and community voices at the heart of your tours with multimedia user-generated content (UGC)
Provide authentic perspectives of what it's like to live, learn, and have fun at your institution

Highlight your community's diversity

Easily collect, manage, and add UGC to virtual and self-guided tour stops and communications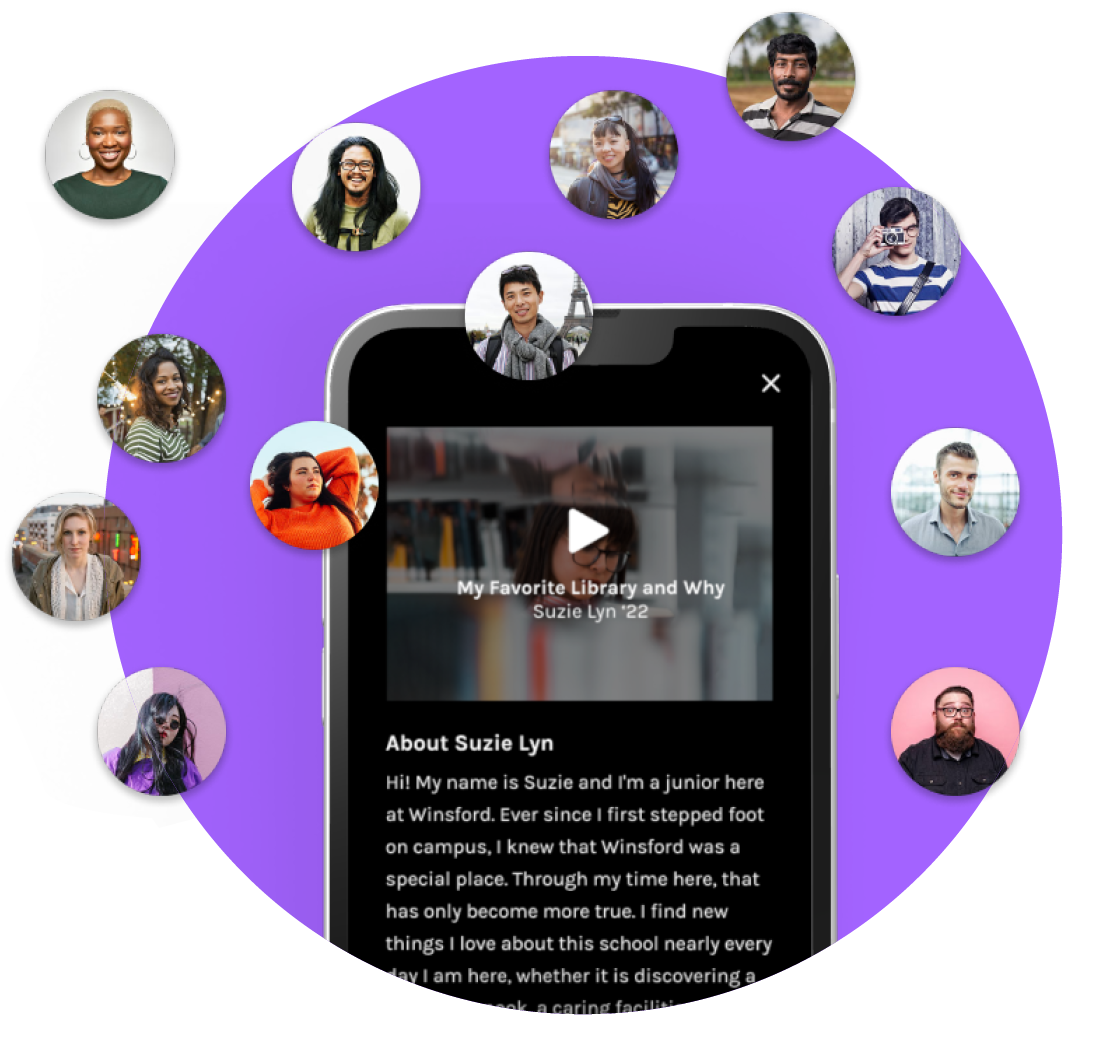 Make tours memorable for all the right reasons
Empower your team to add new tours or content at any time.
No hidden fees or limitations.
Always On
Accessible anytime, anywhere
Individual
True personalization based on interests
Authenticity
Authentic perspective of all your institution offers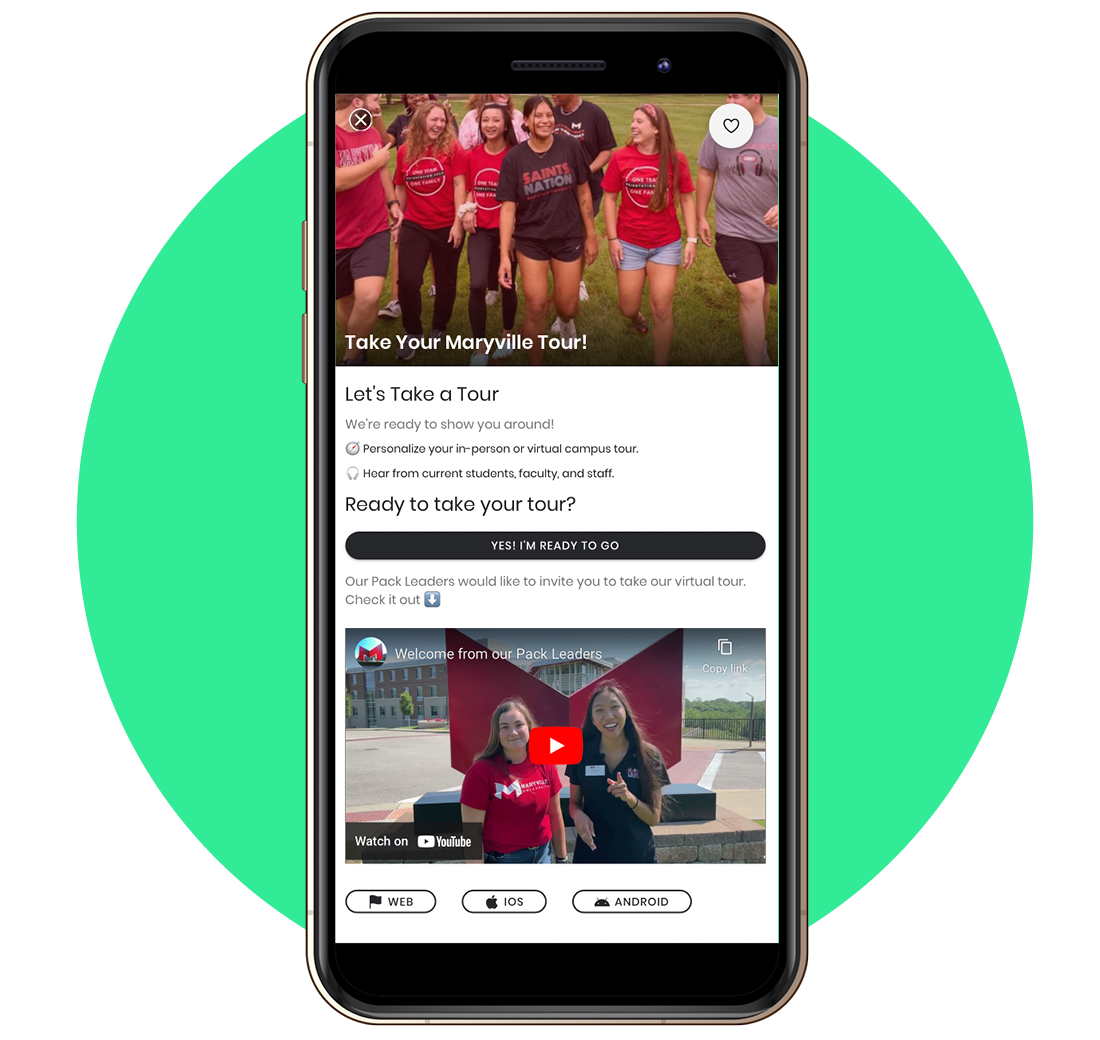 Boost engagement with dynamic mobile content
Send personalized content that builds excitement and inspires action.
Design interactive mobile content to share with students, parents, and tour guides

Drive action by launching 1:1 text message conversations at scale

Broaden your reach with email, text-in keywords, QR codes, and shortlinks

Get started quickly with our robust bank of communication templates
Build excitement on social media
Tap into students' affinity for social media with branded filters and effects for tour day — available for TikTok, Snapchat, Instagram, and Facebook.
A truly powerful way to engage everyone before, during, and after their tour experience.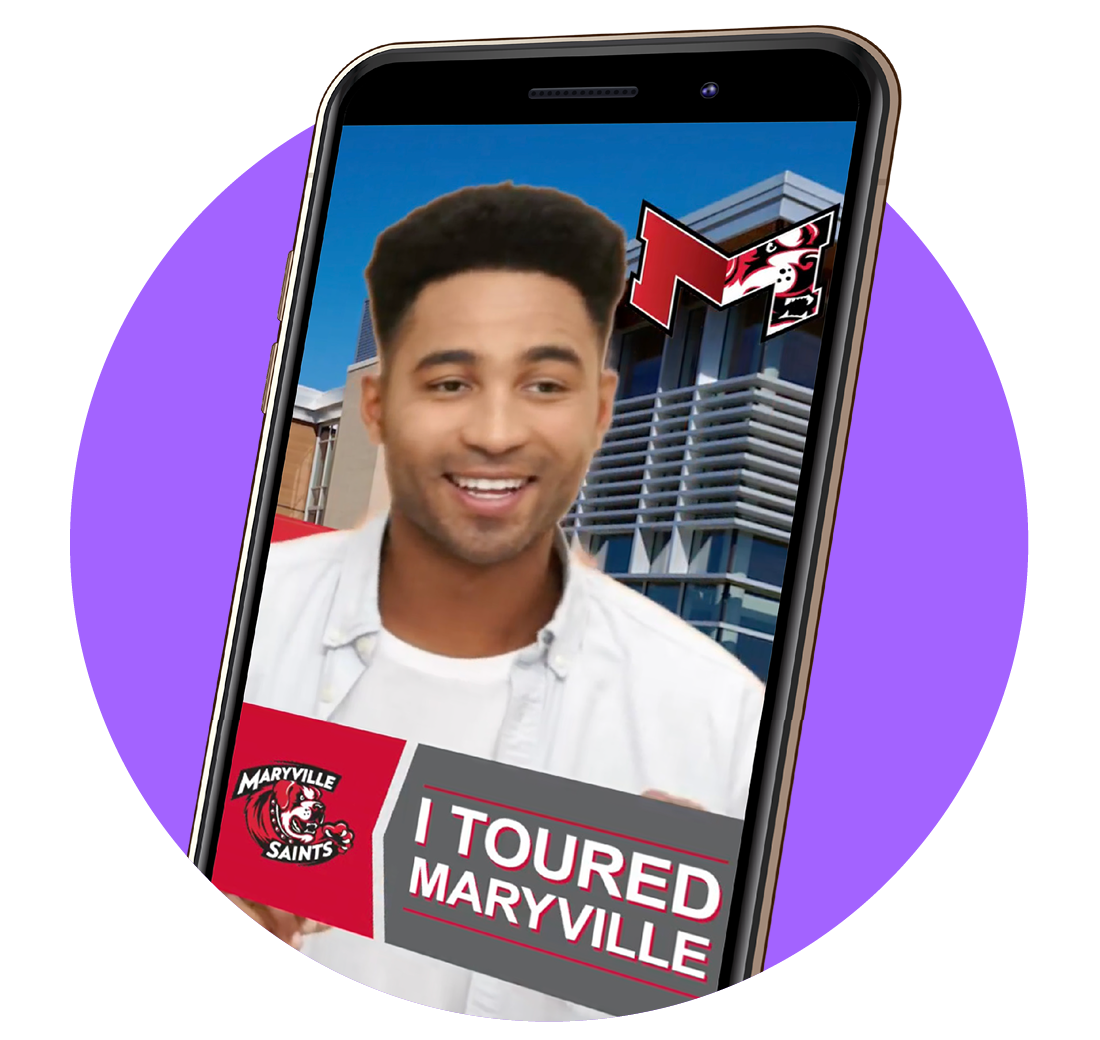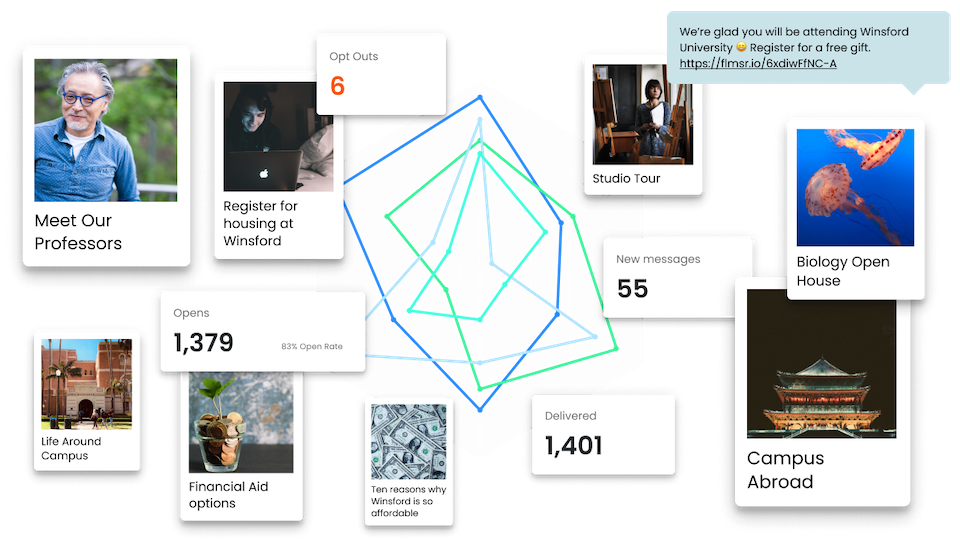 Key metrics
Get key metrics and insights, including the number of virtual and self-guided tours taken, date and time of tours, and more
Activity tracking
Track engagement including clicks and taps, social media lens usage, and survey responses — to better understand and support prospective students
Actionable insights
Drill down on individual student data, like their selected interests
Sync with CRM
Seamlessly import data into your institution's CRM to personalize follow-up engagements
Get started quickly with our Concierge Onboarding service
Launch right away with help from our tour experts
Free up staff time and capacity by letting our team stand up your new tour experience quickly.
Get your first interactive curated or personalized tour built by the StudentBridge team

Collect insights about your tours to improve the overall visit experience

Empower your team to succeed with personalized training to edit, enhance, and create tours and impactful mobile communications

Tap into ongoing guidance and support from our tour experts
What our clients are accomplishing
Learn how our partner institutions use the Campus Visit Experience to
create memorable tour experiences that move the needle.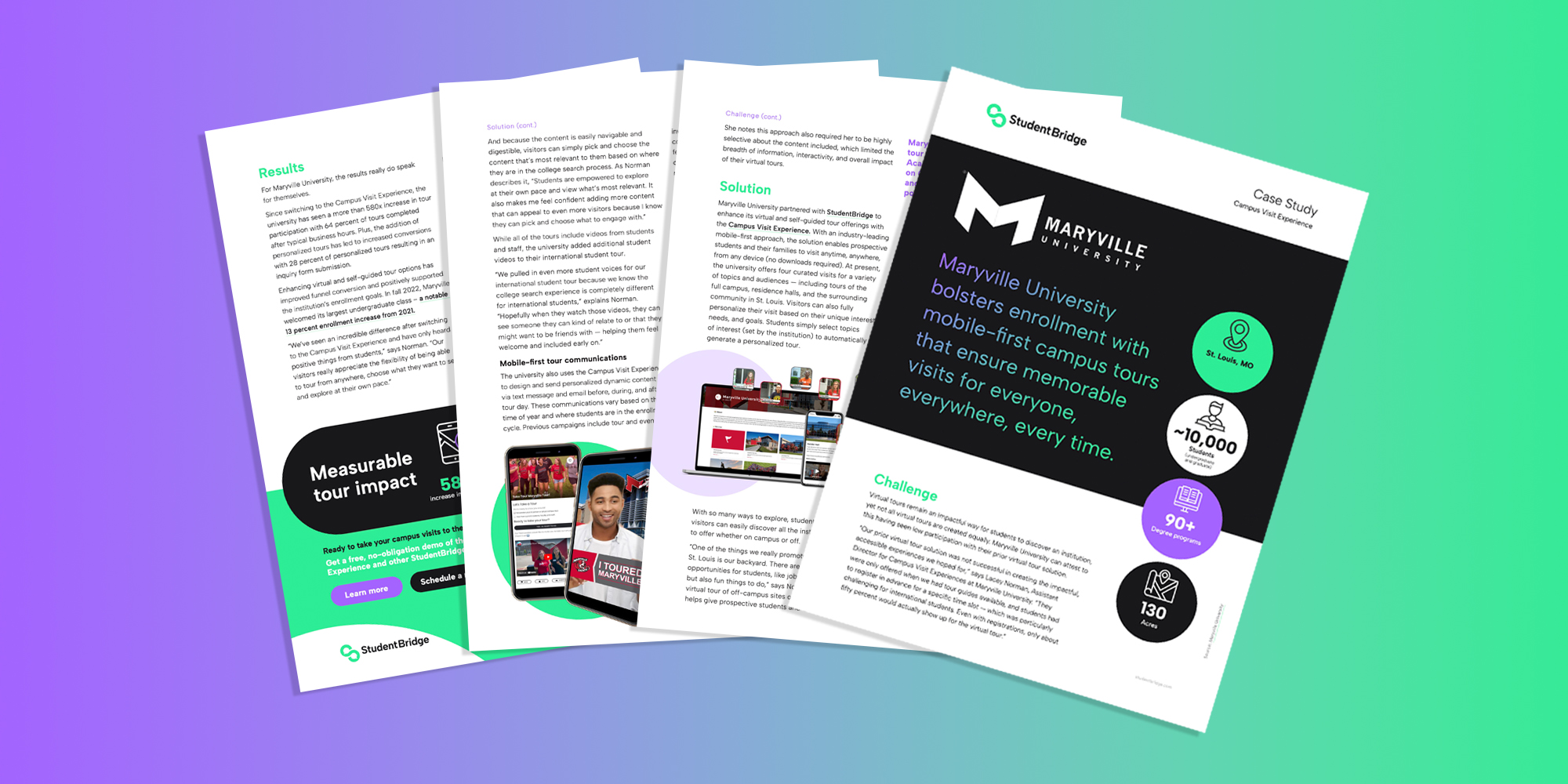 Maryville University
Maryville University bolsters enrollment with mobile-first campus tours that ensure memorable visits for everyone, everywhere, every time.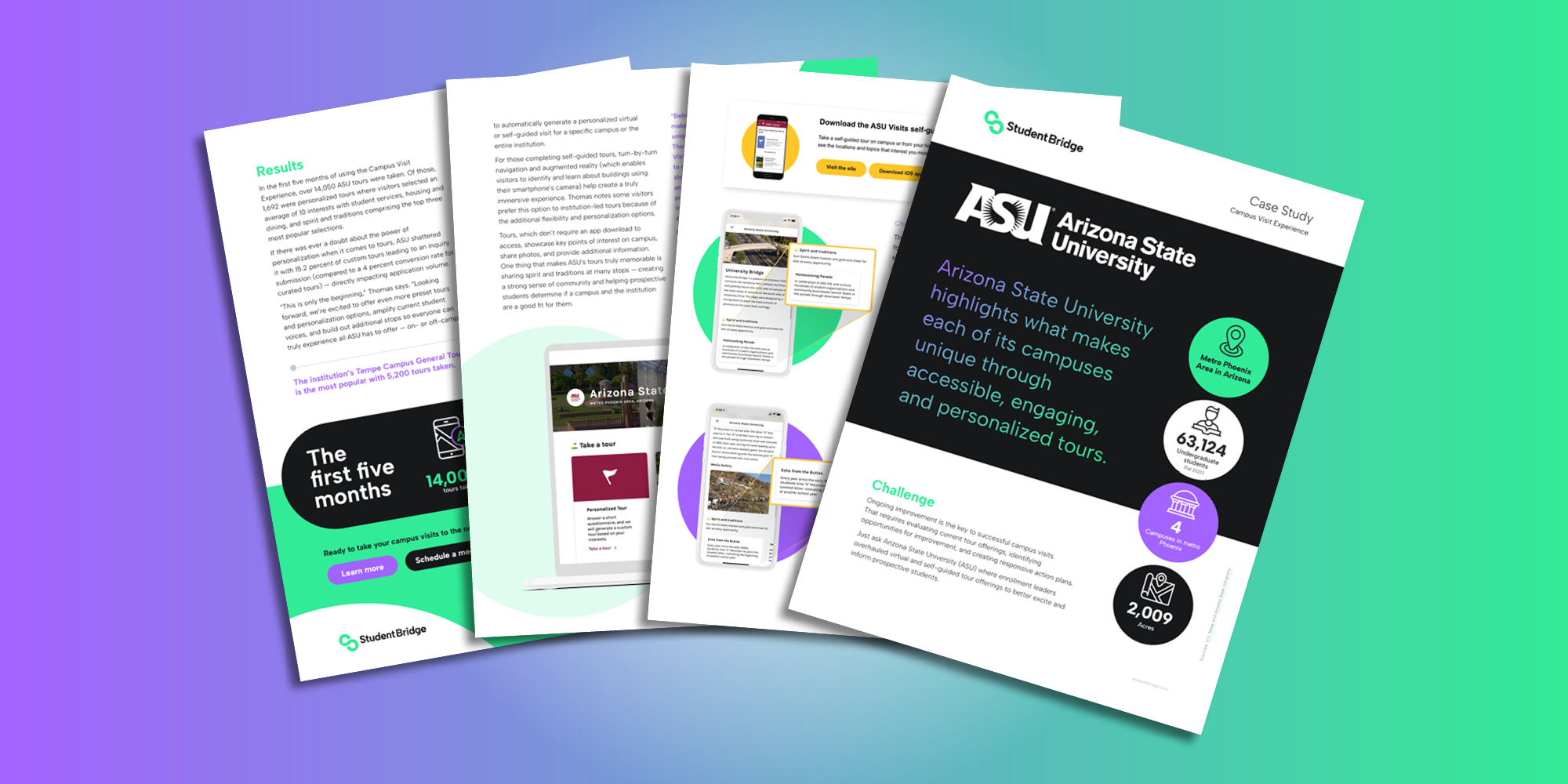 Arizona State University
Arizona State University highlights what makes each of its campuses unique through accessible, engaging, and personalized tours.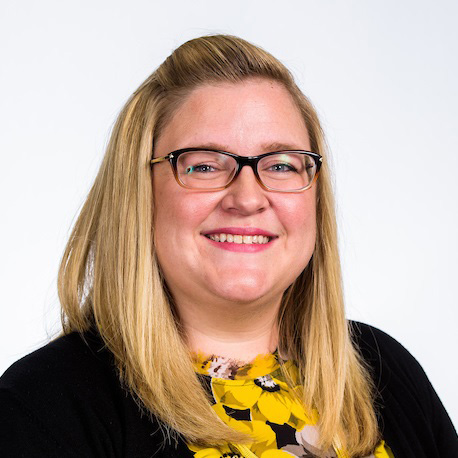 "Being able to highlight what makes each of our campuses unique has been invaluable. The Campus Visit Experience enables us to create unlimited tours and stops, making it an affordable and effective way to engage prospective students, share important information, and drive applications."
Casey Thomas
Associate Director of Digital Engagement and Public Relations for Admission Services | Arizona State University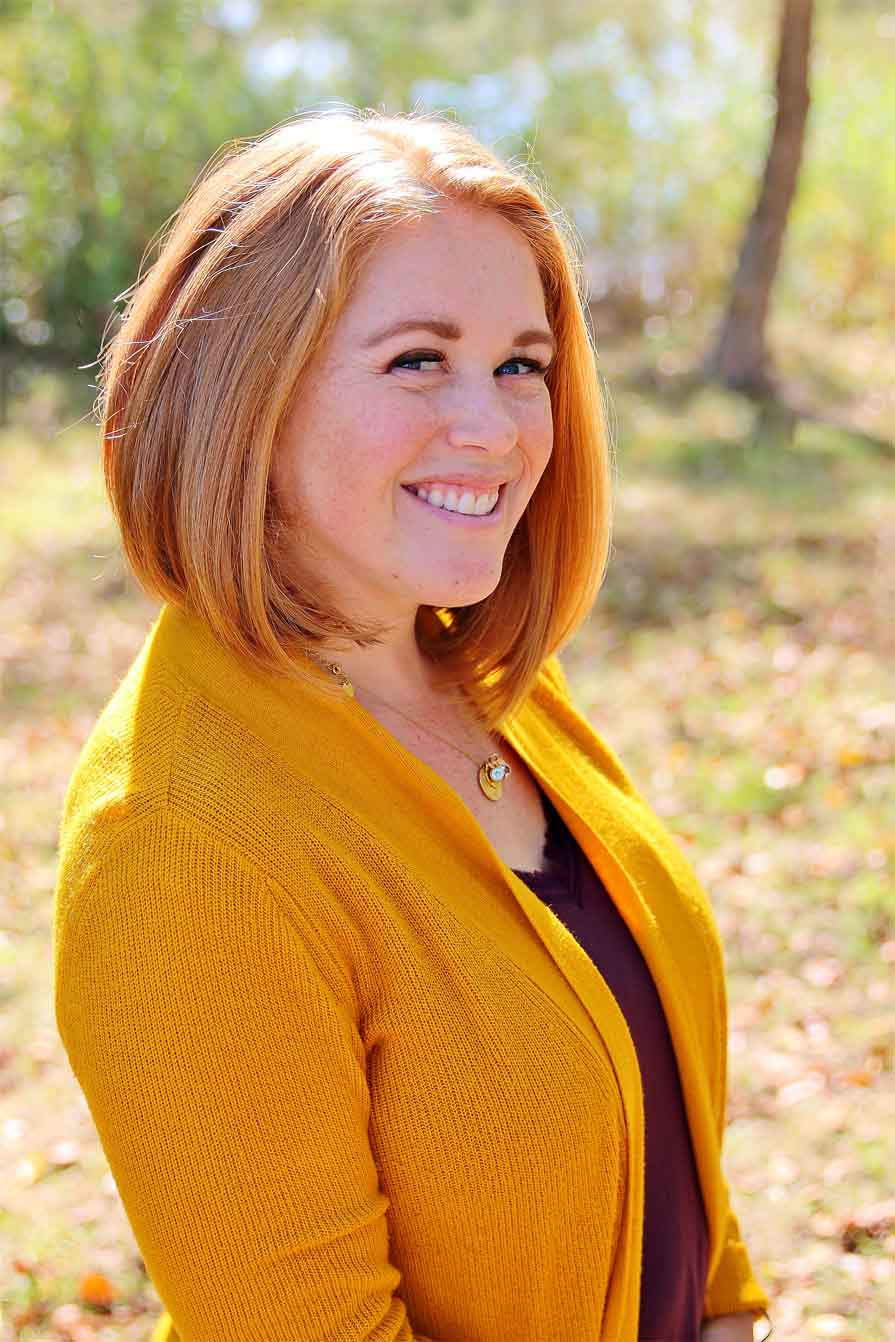 "Prospective students want to hear from other students. With the Campus Visit Experience, we're not only able to increase tour access — enabling students to visit from anywhere, anytime — but we're also able to put current students at the heart of our tours. It provides an authentic, engaging view of Cabrini and helps get students and their families excited about joining our community."
Bryn Campbell
Director of Undergraduate Admissions | Cabrini University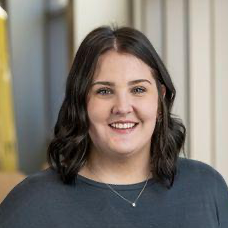 "We saw unbelievable results in just a couple of weeks with the Campus Visit Experience. We were so blown away by the numbers. It's also been incredible to see so many students taking advantage of these tours from home, which wasn't something we saw much of previously."
Kirsten Swales
Program Coordinator, Visitors Center | West Virginia University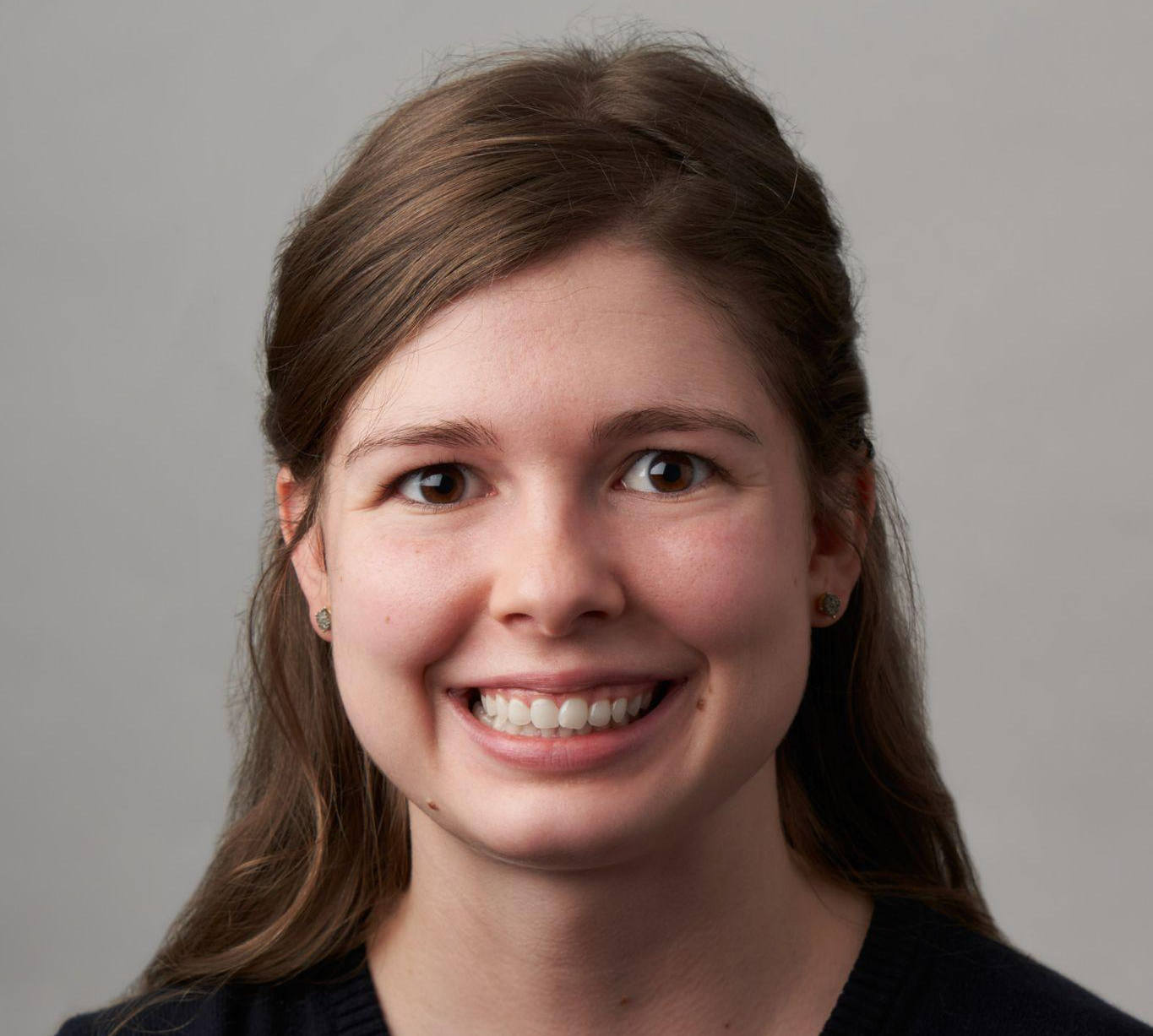 "We've seen an incredible difference after switching to the Campus Visit Experience and have only heard positive things from students. Our visitors really appreciate the flexibility of being able to tour from anywhere, choose what they want to see, and explore at their own pace."
Lacey Norman
Assistant Director for Campus Visit Experiences | Maryville University
The Ultimate Guide to Improving Campus Visits
6 key strategies to improve your higher education institution's tours — on campus and off.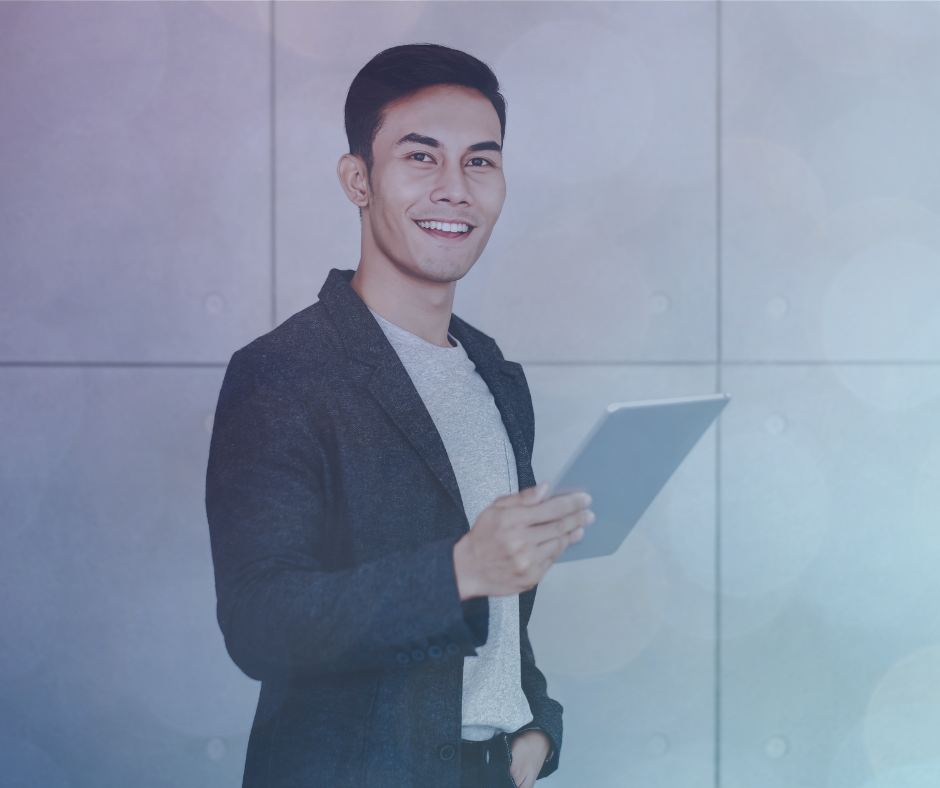 Accepted Student Experience
10 free resources higher education admissions teams loved in 2022
2022 brought a lot of insights for higher education admissions teams. Catch up on the free resources you may have missed to help amplify your...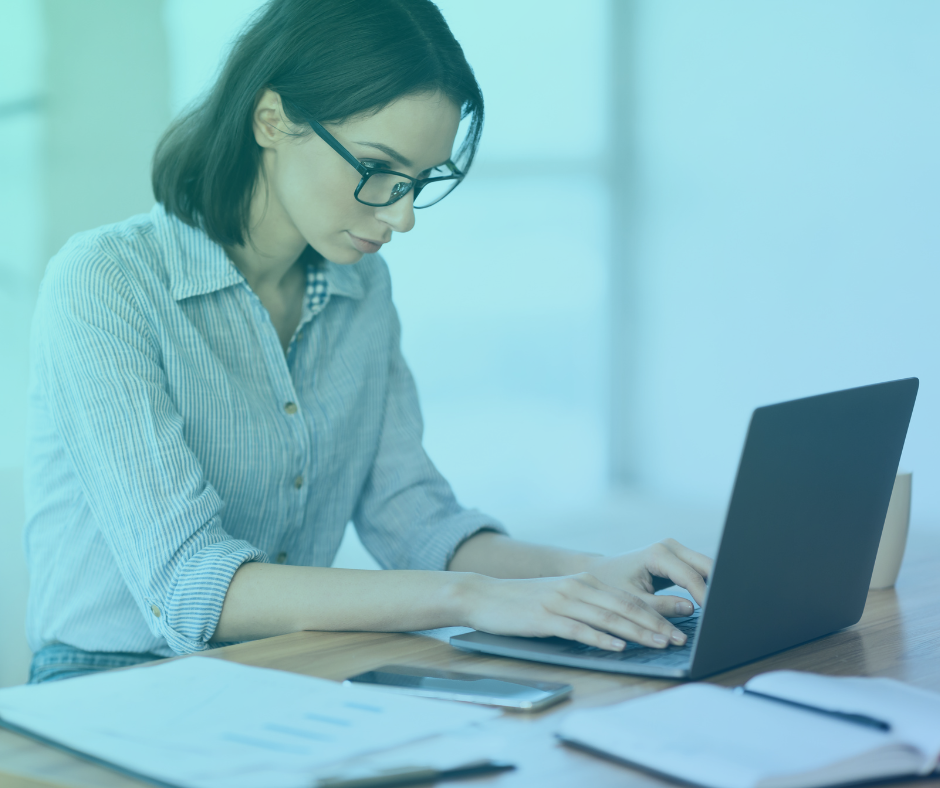 Accepted Student Experience
Ready to reverse declining enrollment? Here's what higher education institutions need to know.
Reveal key factors causing declining enrollment at colleges and universities along with practical ideas to boost enrollment at your institution.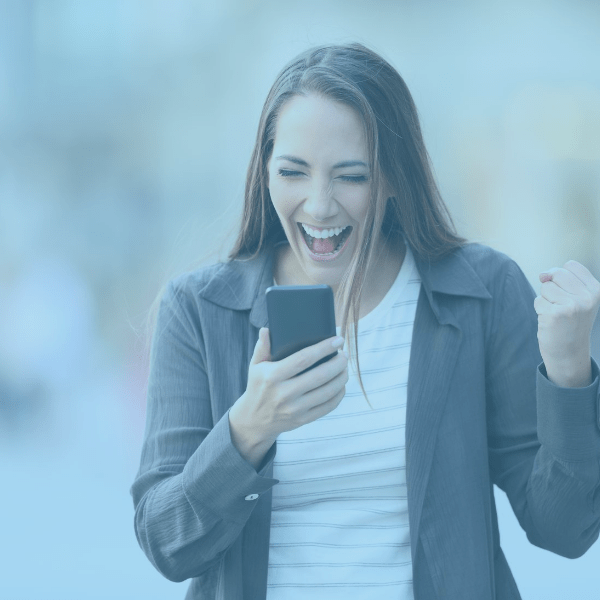 Accepted Student Experience
6 Reasons Why Reaching Admitted Students On Mobile Matters for Community Colleges
Why community colleges should use a mobile-first strategy for reaching and engaging admitted students.
Pick a time to meet with our team.