NEW
Virtual Learning Session
Coalition member institutions: Are you ready to level up your campus visits?
Watch this on-demand virtual learning session to discover how to launch or get more out of your free Campus Visit Experience tour.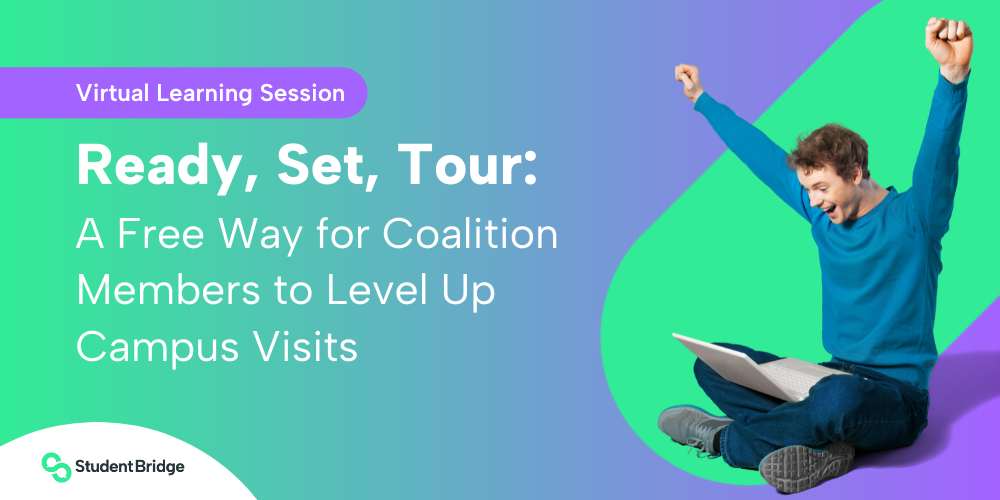 Ready, Set, Tour: A Free Way for Coalition Members to Level Up Campus Visits
Virtual campus visits remain an important way for institutions to increase tour access, stand out from other institutions, and attract more students. As a Coalition member institution, you can level up your virtual visits with a free curated tour powered by StudentBridge's Campus Visit Experience.

Ready to level up your visits? Watch this 30-minute on-demand virtual learning session on how to launch and enhance your Coalition tour. We'll share practical tips for getting the most out of this offering, what other Coalition institutions are doing with their tours, and how to get started.


Be sure to bring any questions you have as there will be time for a Q&A at the end.
Why virtual tours are vital to get right

What the free tour offering includes — as well as how to claim yours

Ideas for enhancing existing virtual tours

How other institutions are using their free tour

And more!
Ready to achieve more with your visits?
Pick a time to meet with our team.