Open the Doors to Achieve More
10 Secrets of Campus Tours that Drive Enrollment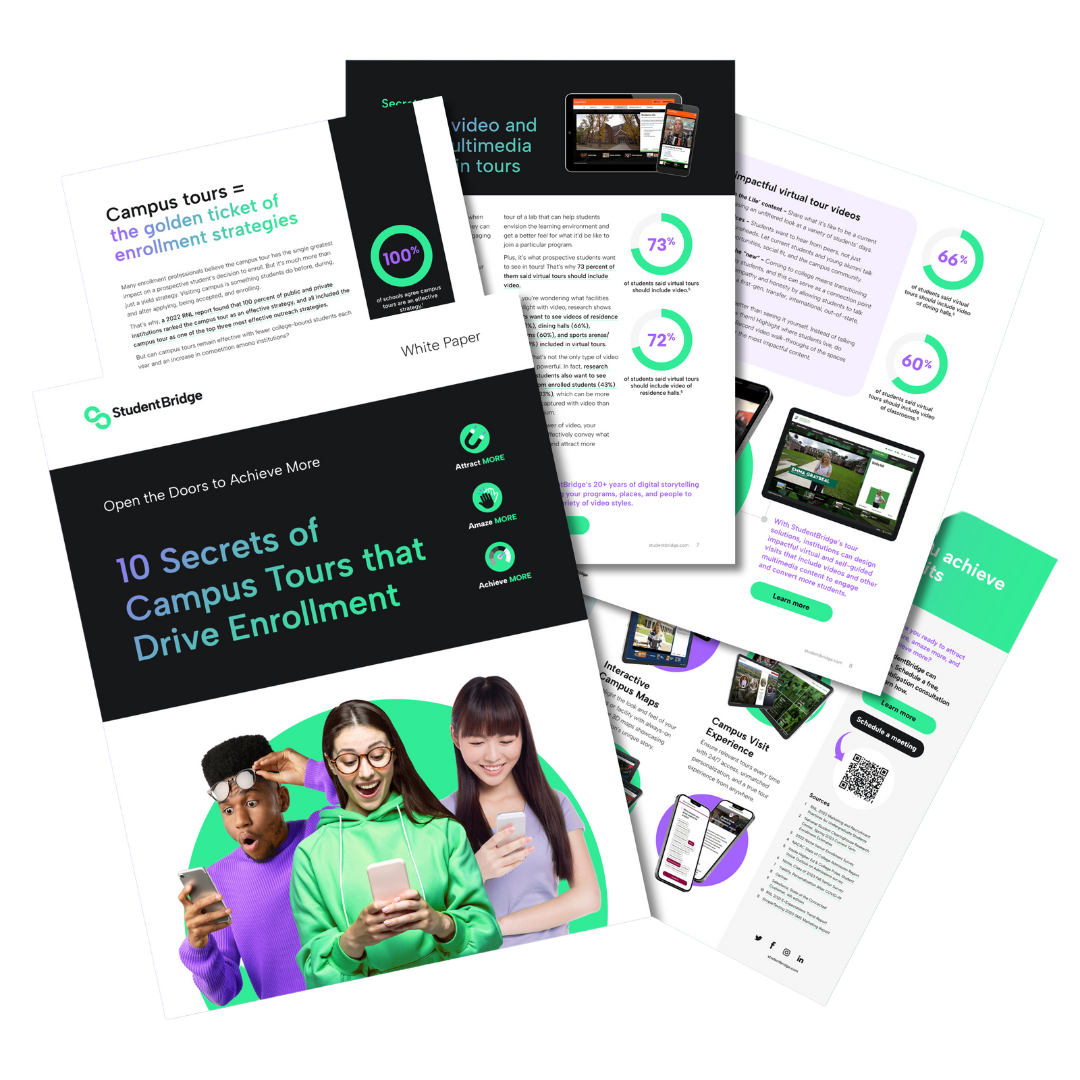 Ready to make campus tours your golden ticket to achieving your enrollment goals?
With competition on the rise, there's a tried-and-true enrollment strategy you may not be doing enough with: Your campus tours.

Campus visits are a great opportunity to stand out from the competition and drive students to apply and enroll. But how can you ensure you're getting the most out of this engagement opportunity and providing a positive, impactful experience no matter how a student tours campus?

Just as important, how can you turn your tours into a meaningful way to stand out from the competition, helping you attract more, amaze more, and achieve more?
In this white paper:
In the Open the Doors to Achieve More white paper, reveal 10 secrets of campus tours that drive enrollment. Unpack the latest research, get expert guidance and ideas for taking action, and discover what other institutions are doing to level up campus tours.
Reveal 10 secrets of effective campus tours that drive enrollment

Understand key challenges impacting enrollment leaders today

Discover innovative ideas for taking meaningful action to level up tours

Learn how to ensure impactful tours for everyone, everywhere, every time

Get bonus practical insights, like 4 tips for impactful videos for virtual tours and 6 ideas for authentic content that drives enrollment

Find out how to extend the impact of your tours, including strategies for before, during, and after tour day

Tap into the power of personalization throughout the tour experience

Uncover ideas for providing an impressive visit when your office is closed or overbooked

See how various colleges and universities are using tours to boost engagement, conversions, and enrollment

And more!
Let's connect
Learn how StudentBridge can help you achieve more.