5 Ways to Leverage Video in Your College Recruitment Strategy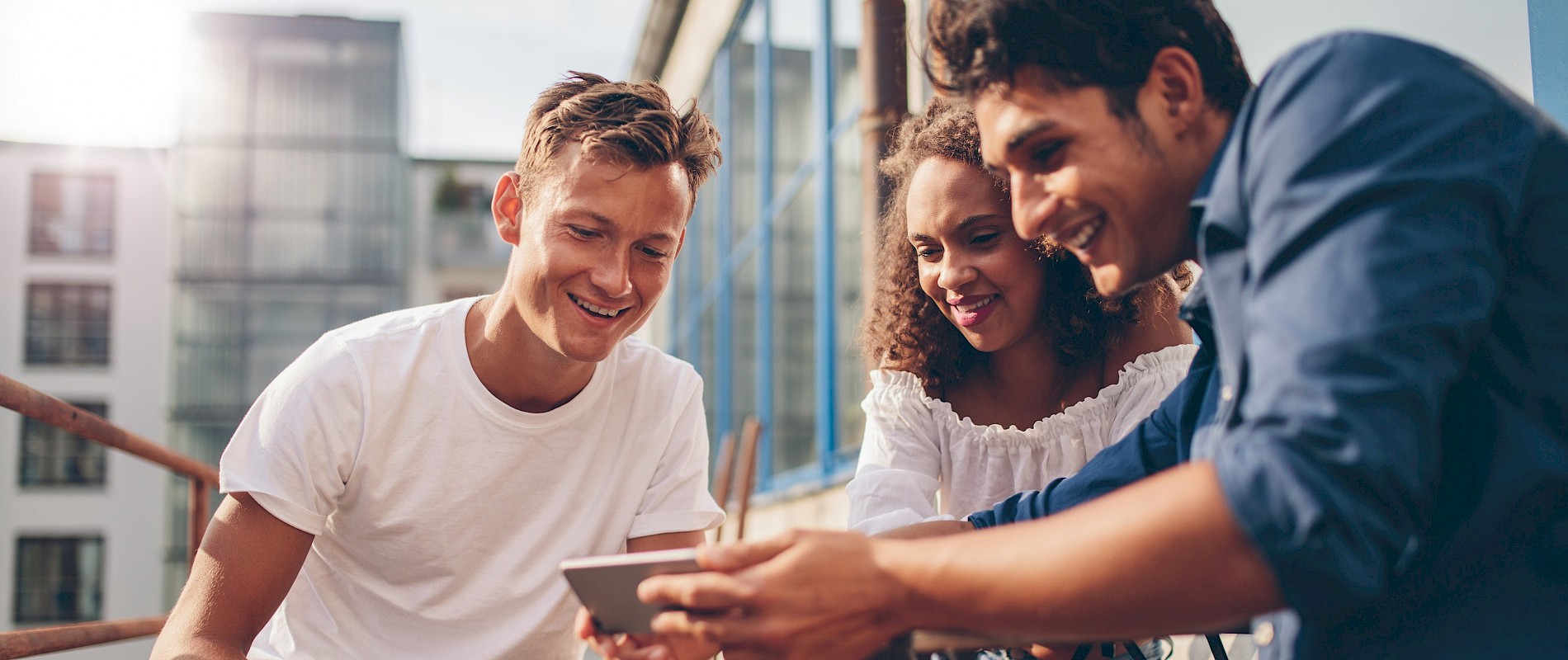 Use of video is an excellent way to maximize your recruitment strategy. However, producing, developing, and implementing video are all tasks that many people are either afraid to attempt in the first place, or just get wrong. Leveraging video content in your recruitment strategy is easy and affordable, and one of the most effective ways to engage Gen Zers as prospects, convert them to applicants, and encourage their enrollment. Here's a look at five simple tactics to leverage video in your recruitment strategy:
1. Decide what works best for you.
In the early stages of your video projects, it's crucial to determine what works best for your needs, goals, and resources. There's no one-size-fits-all when it comes to creating video content. Every recruitment strategy is different, and the same goes for video creation.
What budget can you afford to allow for adding videos to your recruitment strategy? Great videos come in many forms. With the technology in today's smartphones, you can make a fantastic recruitment video using only an iPhone, a free video editing app, and sunshine on a nice day. If you want to take your videos up a notch without breaking the bank, consider investing in a camcorder and an external mic to make your videos look and feel a bit more professional. If your budget allows, you can consider hiring a professional film crew and editing team to make your videos.
Remember, content over quality. Even if your resources allow for a high-budget film crew with flashy cameras and professional lighting, your videos aren't engaging without great content. A usability study completed by the Nielsen Norman Group dispels the myth that students crave flashy and fancy design. Gen Zers prefer videos that are entertaining and informative, so spend some time hammering down great content to make the most of your video projects.
Consider the way your information is delivered to students. Use information that is relatable and concise. Students are drawn to other, similar students, but their shrinking attention spans mean information must be shared quickly and simply. Don't waste time with unnecessary fluff or junk, or students will navigate away from your videos.
Also take into account the methods through which students consume video content. Facebook is no longer the best way to market to students, but it is effective for connecting with parents. As YouTube has become more monetized, it is also not the best method of delivery. Between advertisements and "suggested content," it is increasingly difficult to keep students interested in a single video. Most students now frequent other apps, like Instagram and Snapchat. These apps provide platforms for bite-sized videos and use "stories" that users are encouraged to follow on a daily basis. Having regularly updated videos published through these apps will keep students interested and engaged.
2. Who? Create personalized videos for each population.
In order to leverage video effectively in your recruitment strategy, it's important to have videos for your different target populations. Customize videos specifically for prospects with information about your school and engaging content to turn prospects into applicants. As prospects become applicants, have videos prepared to explain the application process, keeping them excited and engaged in your recruitment procedures. Create entertaining videos for admits congratulating them on their acceptance, and encouraging them as they join your "family."
For your videos, use relatable students and staff. Current students can share stories of their own experiences through the application and acceptance processes, and informative but entertaining staff can provide a glimpse "behind the scenes."
Using videos is a great way to reach potential applicants, but the engaging content doesn't need to stop after students have applied. Prepare personalized videos for students in every population to make the most of video additions to your recruitment strategy.
3. When? Determine the best time to share videos for each population.
Schools have varying deadlines in regard to applications. However, there are some common dates that most students are familiar with. Videos aimed at prospects should be released following these general deadlines, maximizing the effectiveness of video in your recruitment strategy.
Many students begin preparing applications for schools before their final semester in high school, so have videos prepared to capture interest in your school from the start of the school year, encouraging students to seek more information about your school while they're considering where to send their applications. Remember to provide high-quality content, or students will quickly lose interest in your videos and look for others.
Have videos prepared to share with applicants around the time of your application deadline. After students have sent off their applications and paid the fees, it's important to keep them interested so they remain excited about your school. Many students who send several applications have to make a final decision about which school to attend, so these videos are crucial to keeping applicants around when enrollment begins.
As applicants become admits, have videos congratulating them and welcoming them to your school. Explain the post-acceptance and enrollment process, but keep content fun and engaging rather than dry and boring.
Having videos prepared ahead of time with a solid time frame for their release will maximize their effectiveness in recruitment. Knowing what videos you're sharing and when is crucial to leveraging video in your recruitment strategy.
4. Decide where to share your content.
As videos are released to different populations, the methods of their delivery will differ. For example, if a video congratulating admits is shared with all applicants, much confusion will arise from students who were not accepted.
Determine where you will share your video content ahead of time in order to make the most of its implementation. Landing pages and social media pages receive a lot of traffic, so they are excellent for creating interest and encouraging prospective students to become applicants. These videos are accessible to a large population, general in information, and engaging enough to excite prospects into applying.
For applicants, a webpage can be created with videos that are only accessible through a link. These videos are not open to the entire public, but are also not extremely exclusive. As applicants become admits, consider sending short videos along with emails that are more private and customized for a more exclusive, targeted population.
5. How will you measure success?
As with any marketing or recruitment strategy, it is important to measure the success of your video projects. Measuring success will allow you to see what works and what doesn't, what attracts students and what loses them, and what you need to change or update for future videos.
The easiest way to measure success is simply by tracking the number of views or "likes" your videos earn. Social media platforms like YouTube, Instagram, and Snapchat provide these numbers along with the video itself. Monitor the changes in views and "likes" on a schedule that works for you (daily, weekly, bi-weekly, monthly, etc.).
Analyzing these numbers is the next step in measuring the success of your videos. What trends do these numbers follow? What time of the month or year were the most views earned, and why? What else was going on during this time period that may have increased or decreased interest in your videos? By analyzing the numbers, you'll be able to better understand what works and what doesn't.
Reporting is the final step in measuring your videos' success. After analyzing, create a report to look back on in the future regarding the success of a video or video campaign. This report will serve as a vital reference point to leveraging video in your recruitment strategy over time.
Leveraging video in your recruitment strategy is a simple and powerful way to engage Gen Zers when implemented properly. Using great content, catering to specific population groups, releasing videos in the right places at the right time, and measuring the success of your videos, you'll maximize the effectiveness of adding videos to your recruitment tactics.
StudentBridge, Inc., has been helping colleges and universities identify, engage, and convert students around the world for over ten years. Our services include interactive campus maps, video viewbooks, production services, and more! We also offer webinars, whitepages, and a regularly updated blog to provide resources for any college or university interested in improving their recruitment and marketing strategies. Follow us today!